If you plan to visit this enchanting city, you're in for a treat. Georgetown, Penang, is not only known for its rich history and vibrant culture but also for its exceptional hospitality.
In this guide, we'll take you on a journey through Georgetown's finest hotels, ensuring your stay in this UNESCO World Heritage Site is nothing short of extraordinary.
From charming heritage boutiques to contemporary gems, discover the perfect accommodation to make your Penang experience truly memorable.
Top Heritage Boutique Hotels in Georgetown Penang
Georgetown's history comes alive when you stay in one of its heritage boutique hotels. These exquisite establishments have breathed new life into historic buildings, offering an authentic and nostalgic experience.
Let's dive into our list to ensure you choose the ideal place to call your Penang home.
Seven Terraces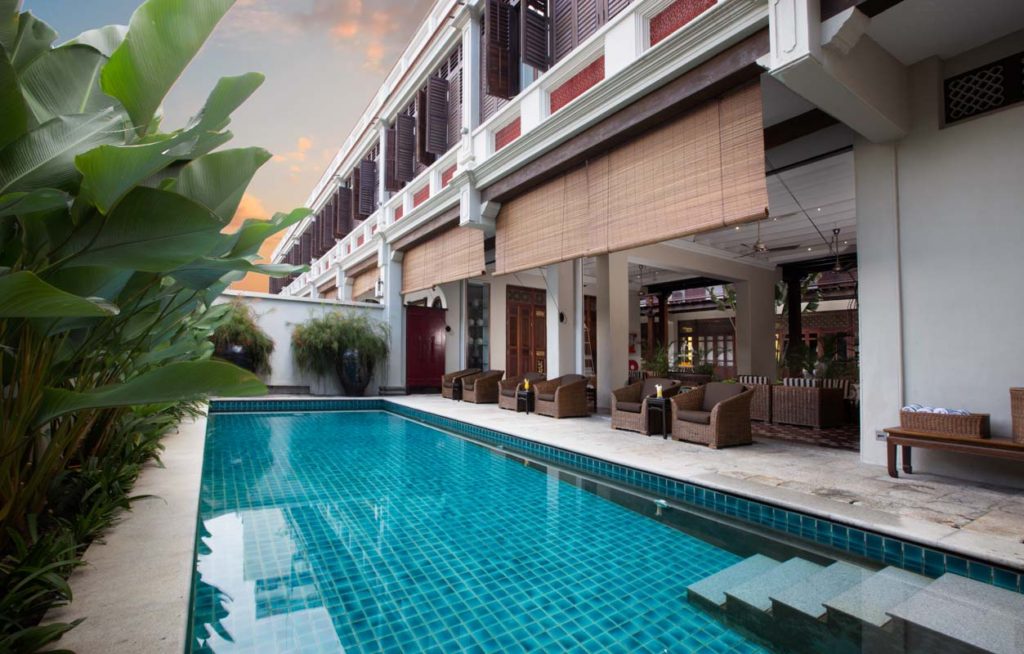 Let's take a walk into the past, where history meets present-day luxury at Seven Terraces Hotel. This boutique beauty nestled in the heart of George Town, Penang, has quite the story to tell – it's all about preserving the good things while giving you what you need today.
Managed by George Town Heritage & Hotels (GTHH), Seven Terraces is a showcase of what happens when seven 19th-century Anglo-Chinese terraces get a modern makeover – thanks to the skills of Christopher Ong and Karl Steinberg. They know how to keep history alive while making you comfortable.
Step inside and you'll find antique furniture and lavish fabrics that create a cozy vibe. The wooden floorboards have seen their fair share of footsteps and have been turned into a lovely floor. As for the beds, they're like something out of a fairytale, intricate carvings and all.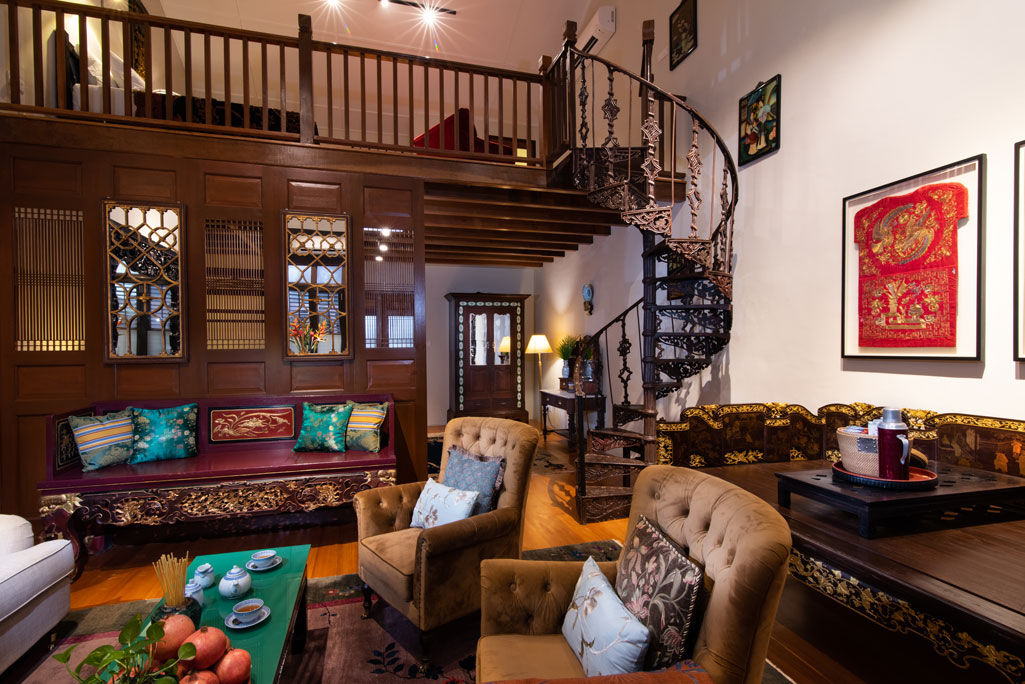 When you're ready to freshen up, the bathrooms are waiting with roomy spaces and soothing rain showers. The suites are all about variety – couples will love the duplexes that give you space to spread out. And if you're a family or a bunch of friends, the bigger suites are just the thing.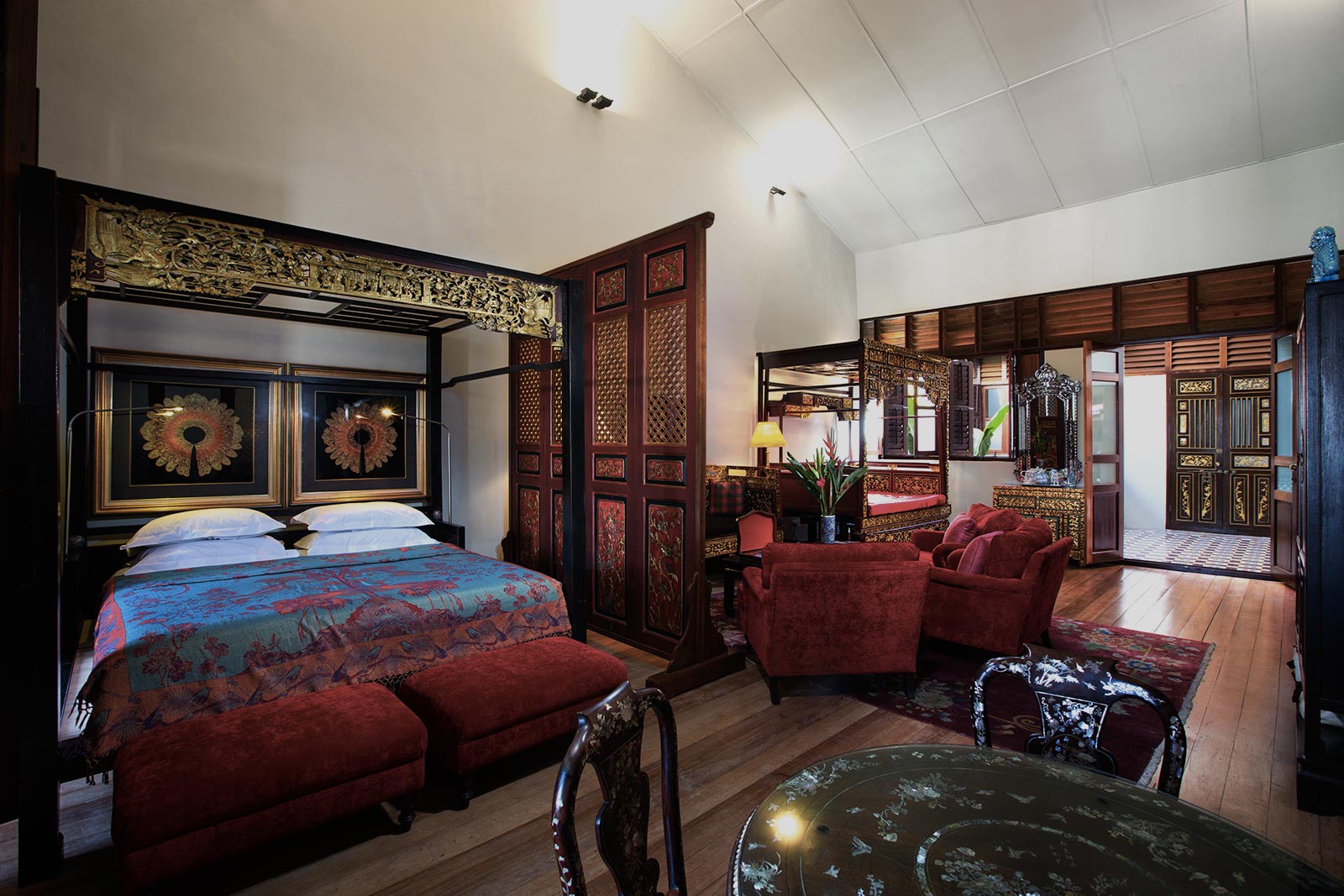 Seven Terraces Hotel is about making you feel at home and part of the local history. Forget the formality – it's all about mixing comfort with character.
What's Special?
It is housed within beautifully restored 19th-century Anglo-Chinese terrace houses, offering a unique opportunity to immerse yourself in Penang's rich heritage, intricate architecture, and historical charm.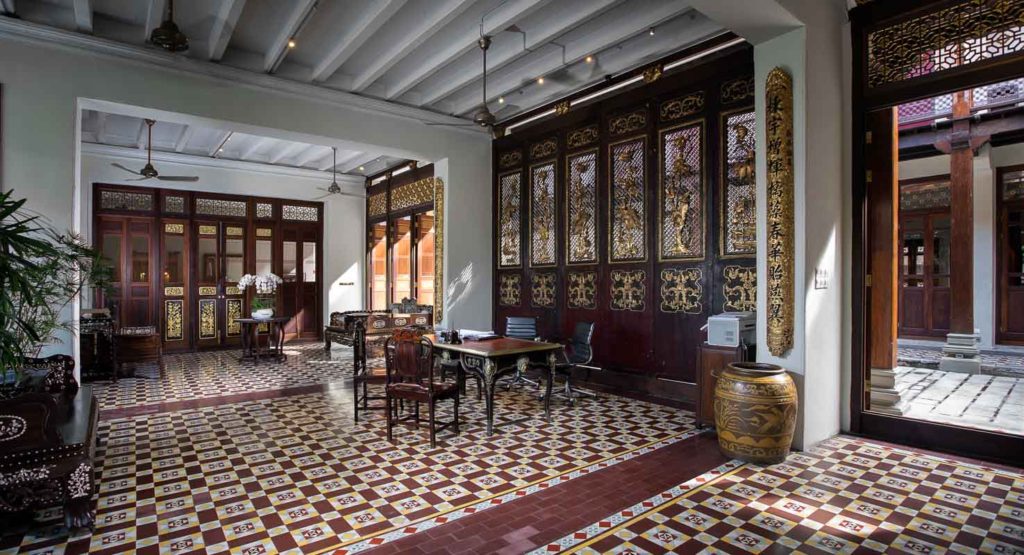 Hotel's stunning Peranakan design features intricate tiles, antique furnishings, and tasteful decor that reflect the vibrant cultural heritage of the region.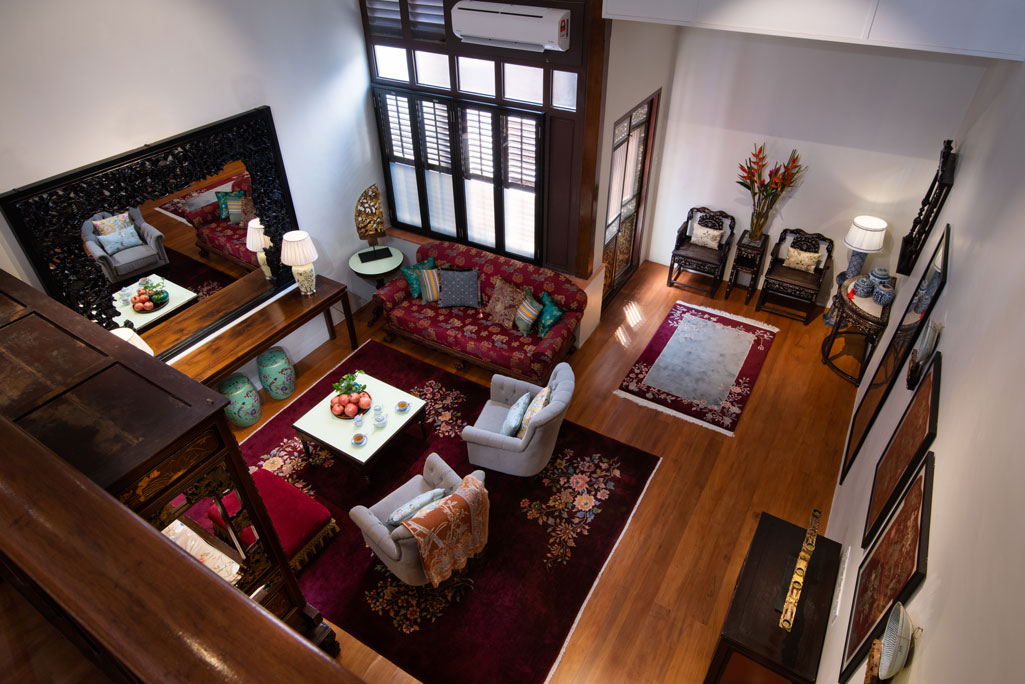 The hotel's Kebaya Dining Room, ranked among Penang's finest Peranakan fusion dining establishments, provides guests with an array of exceptionally crafted Indochinese and Peranakan dishes, approaching the level of Asian fine dining in terms of excellence.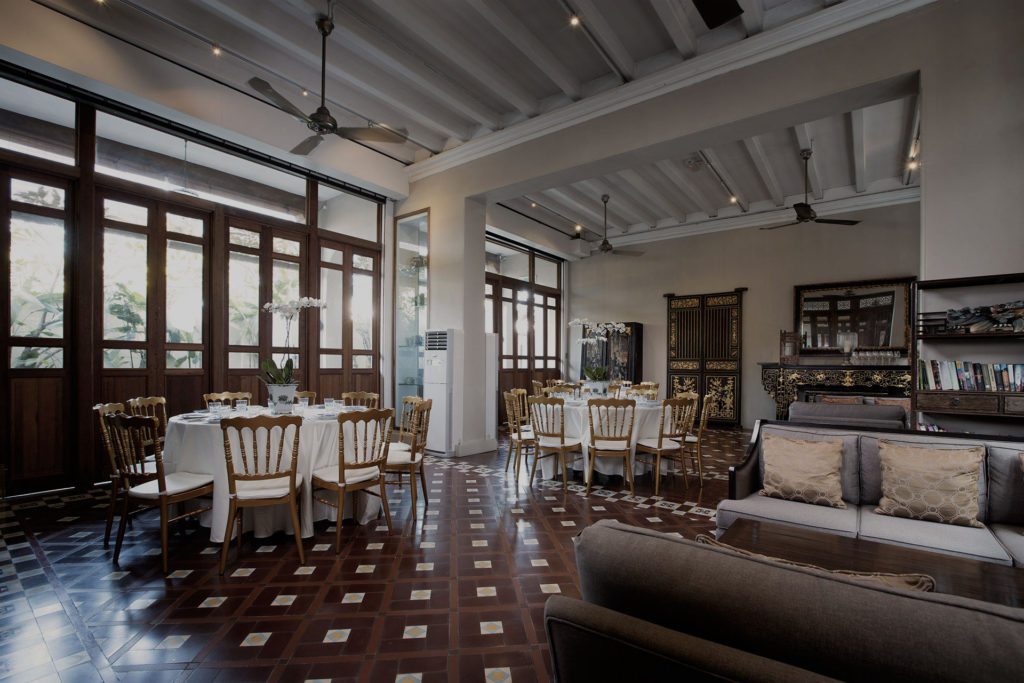 Our Antique Shop offers everything from redwood closets and opium beds to kamcheng dinnerware, tables, and chairs.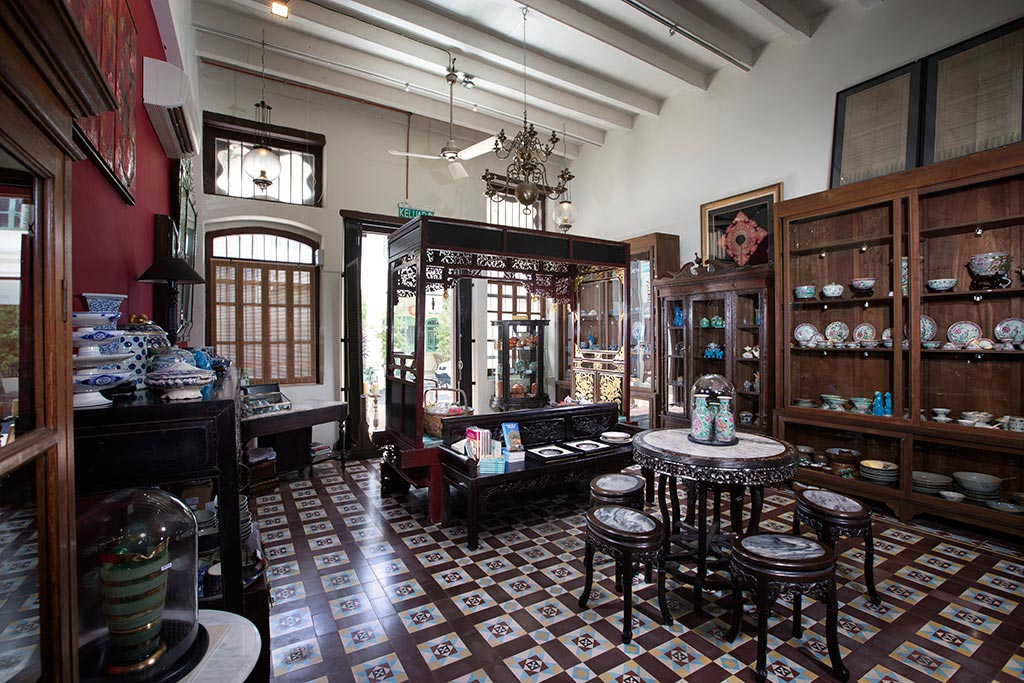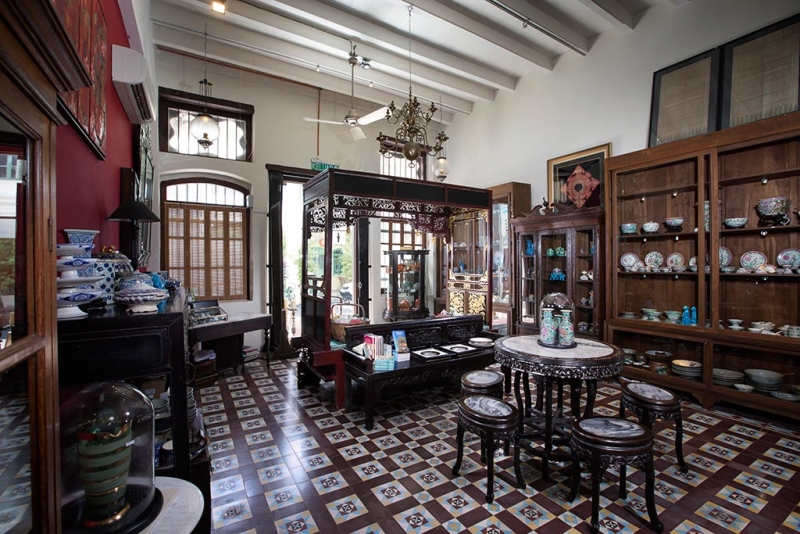 Seven Terraces also offers unparalleled access to the city's historic attractions, street art, local markets, and cultural experiences.
Price Range: $$-$$$. Get our latest pricing here.
Address: 14A, Stewart Ln, Georgetown, 10200 George Town, Penang
Looking for more unique experiences in George Town, Penang? Our journey through Georgetown's charm doesn't stop at Seven Terraces Hotel. Be sure to explore our other gems as well:
And for an exquisite culinary adventure, don't miss Kebaya Dining Room, one of the best Peranakan Fine Dining Restaurants in Georgetown Penang, where traditional Peranakan flavors take centre stage.
Eastern & Oriental Hotel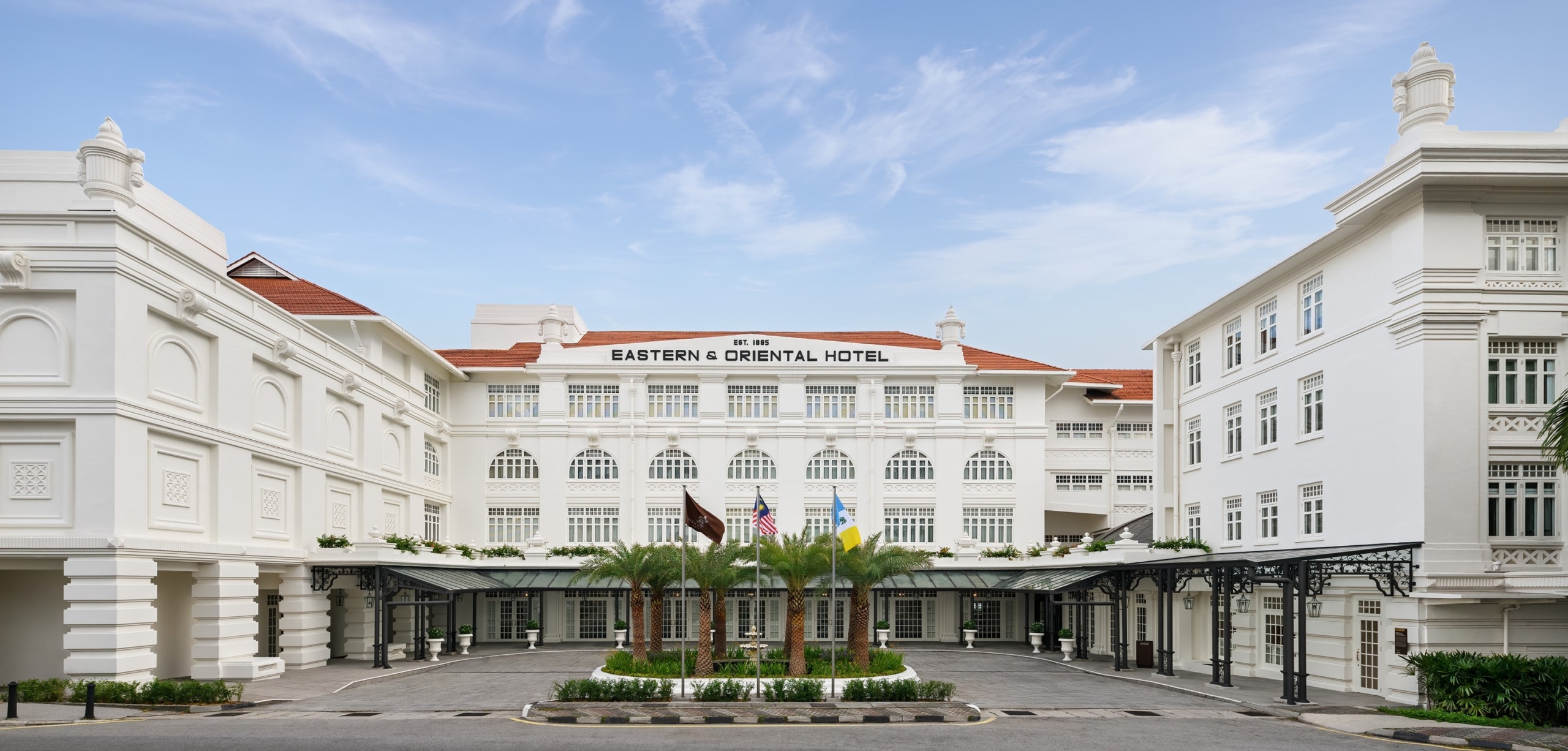 Image credit: E&O Hotel Facebook
Travel back in time while enjoying modern comforts at the Eastern and Oriental Hotel, an iconic gem that has graced Penang's shores since 1885. This storied establishment, built by the renowned Armenian Sarkies Brothers, is a testament to luxury, adventure, and timeless elegance.
The Eastern and Oriental Hotel offers not one, but two distinctive wings – the Heritage Wing and the Victory Annexe. The Heritage Wing, the original heart of the hotel, exudes old-world charm with its Moorish minarets and grand echo-dome lobby.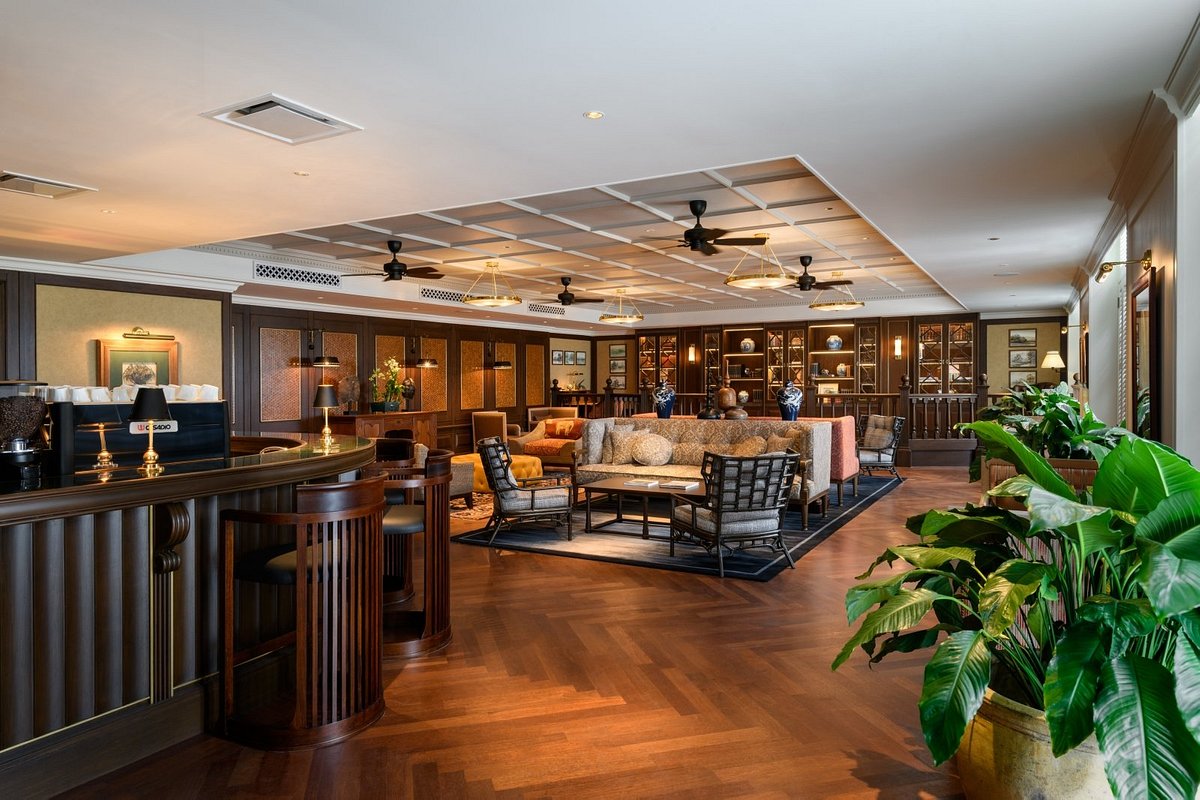 Image Credit: Trip Advisor
The wing houses 100 elegant suites that transport you to a bygone era. Each suite pampers guests with an in-suite coffee machine and a tea station with exquisite bone china teacups. Complimentary minibars, luxurious Egyptian cotton towels, and 400-thread-count bedroom linen with a satin finish enhance the experience.
On the other hand, the Victory Annexe, an extension unveiled in 2013, is a contemporary haven that nods to the past while embracing the needs of modern travellers.
This wing presents 118 Studio and 14 Corner Suites, all thoughtfully designed to provide state-of-the-art conveniences. High-speed Wi-Fi, a fully-equipped gym, and an infinity pool offering panoramic Andaman Sea views cater to the modern traveller's desires.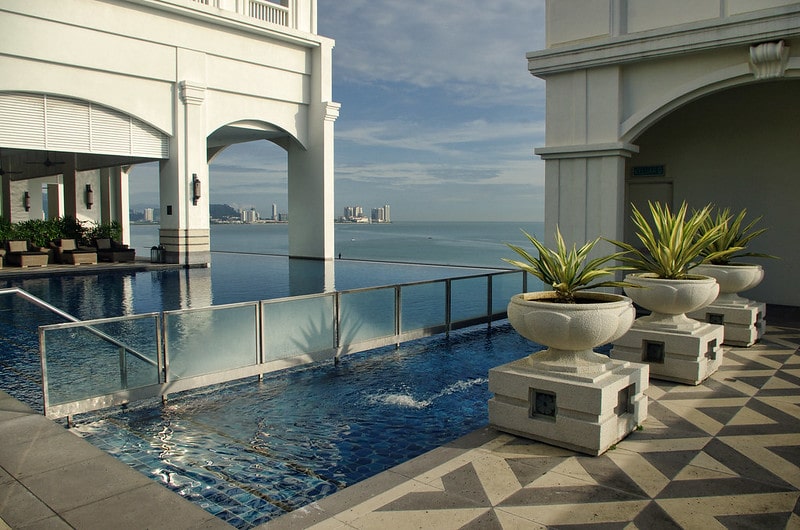 Image Credit: iWandered
Beyond the luxurious rooms, the Eastern and Oriental Hotel offers a picturesque outdoor pool with serene sea views, six inviting dining options, and a bar for those seeking a toast to the evening.
Sarkies at the Victory Annexe stands as a local favourite, offering a casual buffet with international fare and outdoor seating, while Planters Lounge caters to hotel guests with complimentary breakfast. To taste English libations, visit Farquhar's Bar, a classic gentlemen's club-style establishment with a delightful garden setting.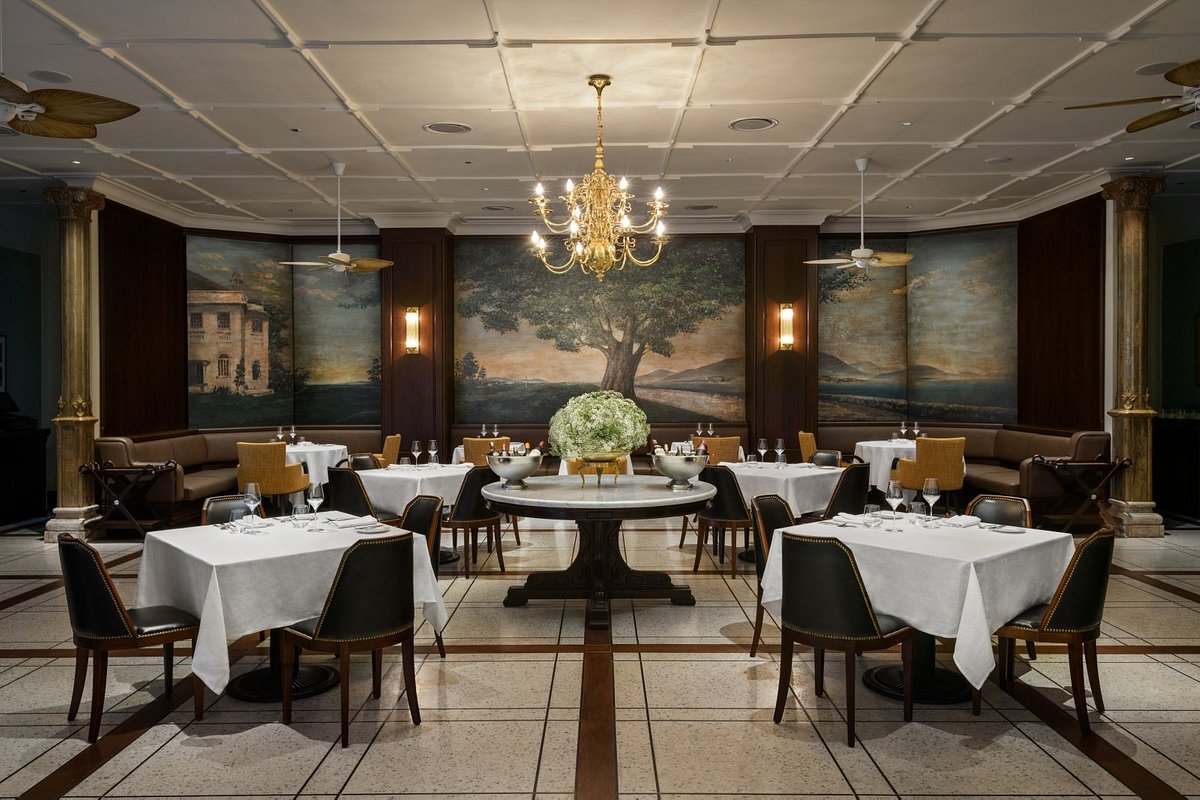 Image Credit: Trip Advisor
What's Special?
Two large luxury sea-facing pools: the Waterfront infinity pool at the Heritage Wing that offers refreshing dips with views overlooking the Andaman Sea and the Victory Annexe's infinity pool featuring a terrace cocktail bar.
Offers an array of dining experiences, including all-day dining venues, bars, and snack bar
Georgetown's iconic eateries and attractions are just a stroll away.
Price: $$$. You can check out their pricing here
Address: 10, Lebuh Farquhar, George Town, 10200 George Town, Pulau Pinang
23 LoveLane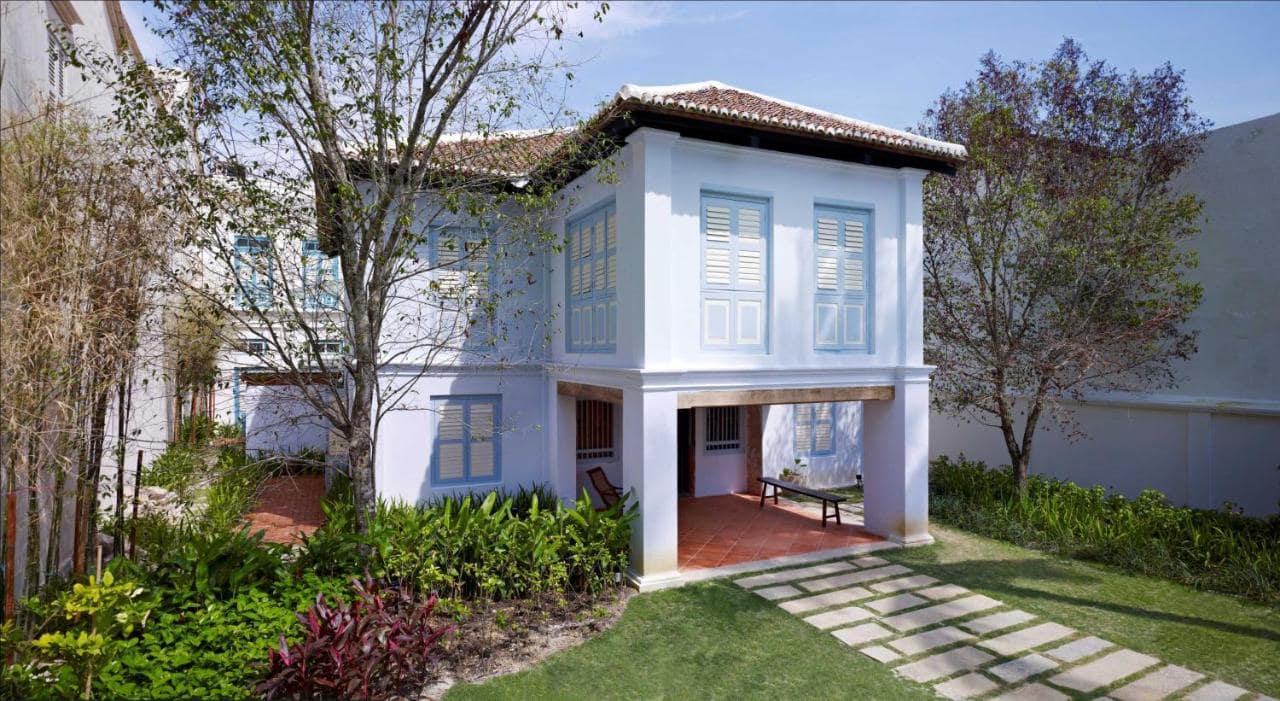 Image credit: Booking.com
Once a private residence, this exquisite 10-room hotel unveils a journey that intertwines European and local ownership, culminating in a splendid heritage haven.
Amidst a careful restoration, 23 Love Lane Hotel transformed from a private residence into a tapestry of architectural marvels, each representing distinct design periods. The result is a harmonious fusion of five architectural styles that tell a story of evolution through time.
As you step inside, you'll find the essence of history adorning every corner. The hotel is a visual delight, adorned with antique pieces and tasteful paintings thoughtfully placed throughout. Notably, these treasures are part of the owner's private collection, making each step within the hotel an exploration of curated artistry.
Image credit: Booking.com
The accommodations are equally exceptional, featuring various suites catering to diverse preferences. Choose from six distinct types, each offering a unique charm that resonates with the building it inhabits.
Whether it's the Anglo Indian Bungalow, the Straits Eclectic Building, the 1920s Jack Roof Annex, the Indian Shop House, the Muntri Suites, or the Stewart Suite, each promises an experience that's both lavish and comfortable.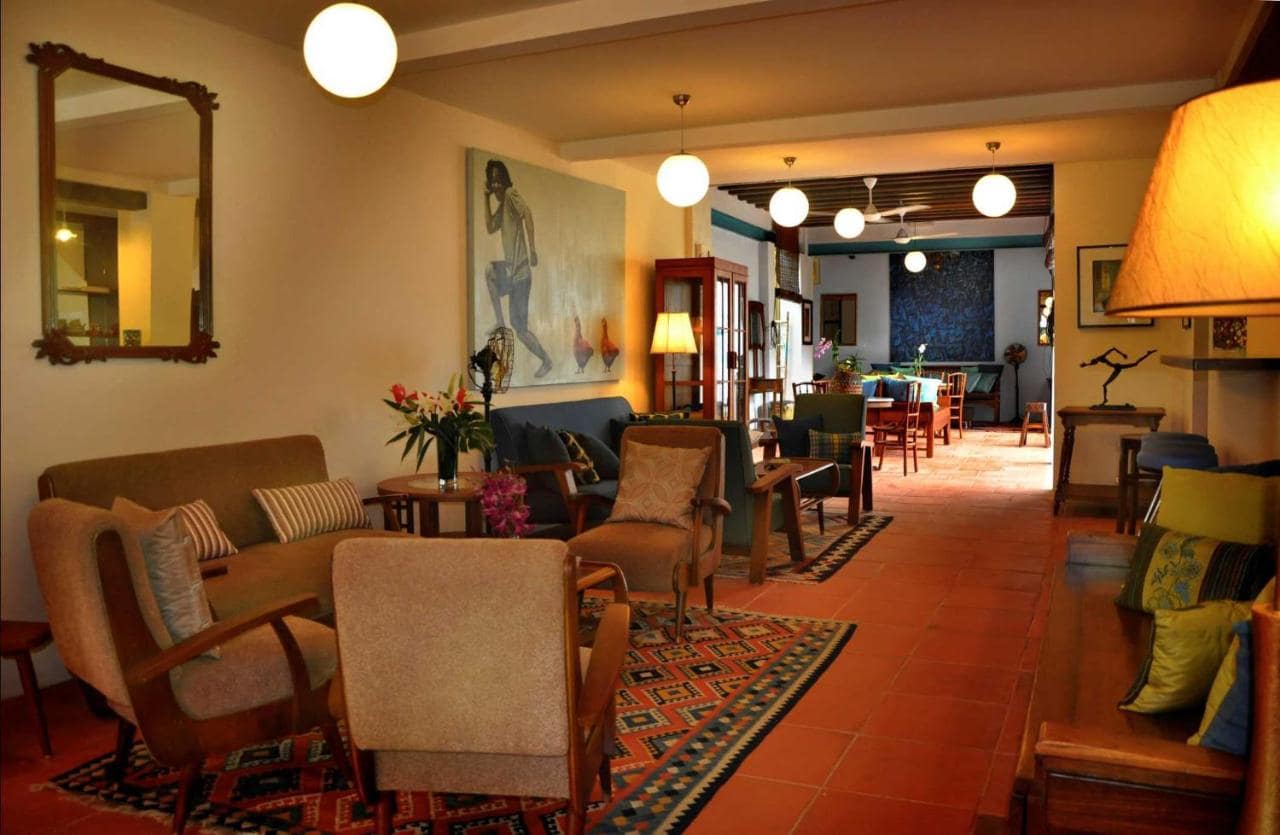 Image credit: Booking.com
Beyond the suites, 23 Love Lane Hotel beckons you to explore its enchanting corners. The Chinese-Indian terrace, graced with cozy benches, invites you to lounge and soak in the ambiance. The library, adorned with coffee and board games, is a haven for those seeking quiet moments. A lush private garden provides solace, offering a serene escape after a day of exploration.
What's Special?
A curated collection of contemporary art and antiques
The lush garden courtyard, with its century-old rain trees and tranquil koi pond, provides a serene oasis in the heart of bustling George Town, allowing guests to unwind in a peaceful natural setting.
Price: $$. Check it out here
Address: 23, Love Lane, George Town, 10200 Penang, Malaysia
Yeng Keng Hotel
Image credit: Booking.com
Built-in the distinguished Anglo-Indian style by Shaik Eusoffe bin Shaik Latiff, this mansion originally housed his Indian-Muslim family. The ownership passed through various hands before being entrusted to the trustees of Ying Han Pit Shu, a renowned 19th-century Cantonese social club, in 1897. This phoenix-like building emerged as a premier boutique accommodation through transformations and shifts, a testament to its enduring allure.
Yeng Keng Hotel offers 20 elegantly refurbished rooms that blend heritage aesthetics with modern conveniences effortlessly. The 19 exquisitely appointed rooms and suites fall into eight distinct categories, each offering a unique experience.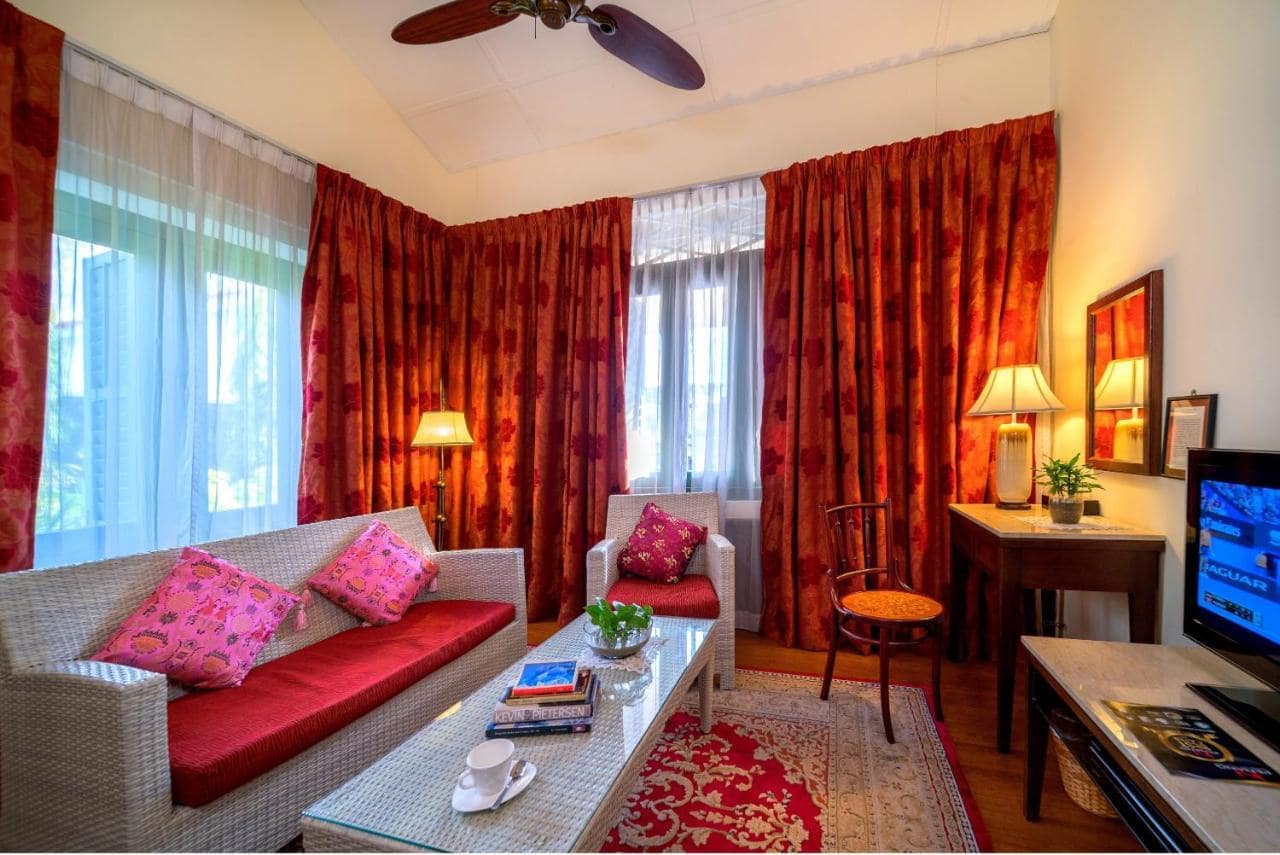 Image credit: Booking.com
From the serene courtyard to the historic mansion deluxe, and from the cozy courtyard family to the inviting garden suite, each space welcomes you with luxurious beds, vintage wooden floors, and timeless furnishings.
Whether you choose a room overlooking the tranquil courtyard or one with sweeping street views, you're guaranteed a slice of heritage combined with the comforts of today. The hotel's warm staff, available 24/7, enhance your experience, offering assistance with tours and tickets.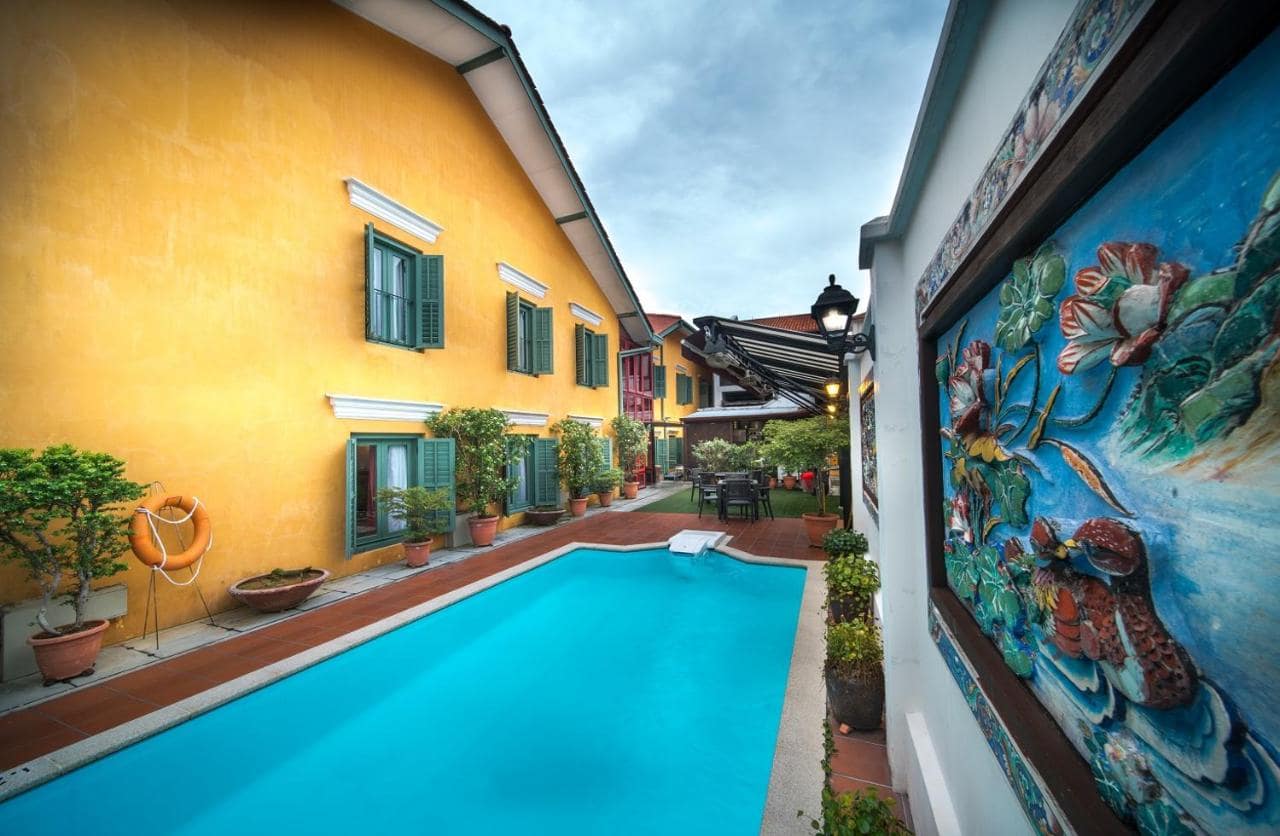 Image credit: Booking.com
While Yeng Keng Hotel's allure stems from its rich history, the amenities of the 21st century are not forgotten. Guests can cool off in the inviting swimming pool, indulge in cocktails and desserts at the Yeng Keng Café Bar, and enjoy a sumptuous breakfast, always included in the room price. Even non-guests can savour breakfast delights at an irresistible price.
What's Special?
20 homey rooms decorated in period-style Chinese decor
Walk distance to various tourist attractions such as Penang Time Tunnel, Kota Cornwallis and Khoo Kongsi
Free breakfast at Western and Hainanese restaurant
Price: $$. Check the pricing here.
Address: World Heritage, 362 & 366, Lbh Chulia, George Town, 10200 George Town, Pulau Pinang
The Edison George Town

Image credit: Booking.com
Built-in 1906, The Edison's stately entrance, adorned with a resplendent water feature featuring dragons, beckons like an embrace from a long-lost friend. A striking Chinese colonial façade, embellished with pale green louvred windows, columns, arches, and intricate plaster detailing, sets the stage for a regal and inviting experience.
Over the years, this elegant structure has gracefully transformed. From a private residence to an administrative centre under the occupying Japanese forces during World War II, and later a bed-and-breakfast, it culminated in a comprehensive renovation in 2014 that birthed The Edison Hotel as we know it today. Opening its doors in mid-2016, this boutique retreat offers a mere 35 rooms, ensuring an intimate and personalized experience.
Image credit: Booking.com
As you enter The Edison, you're greeted by spacious rooms that exude Art Deco charm. The attention to detail shines through in every corner, from excellent beds and linens to well-designed lighting.
The Edison's 35 smartly appointed rooms and suites are marked by minimalistic style, boasting high ceilings and modern comforts like flat-screen TVs, Wi-Fi, and work desks. Each room offers thoughtful amenities, including an espresso capsule coffee machine, a selection of teas, and a welcoming basket of fruit.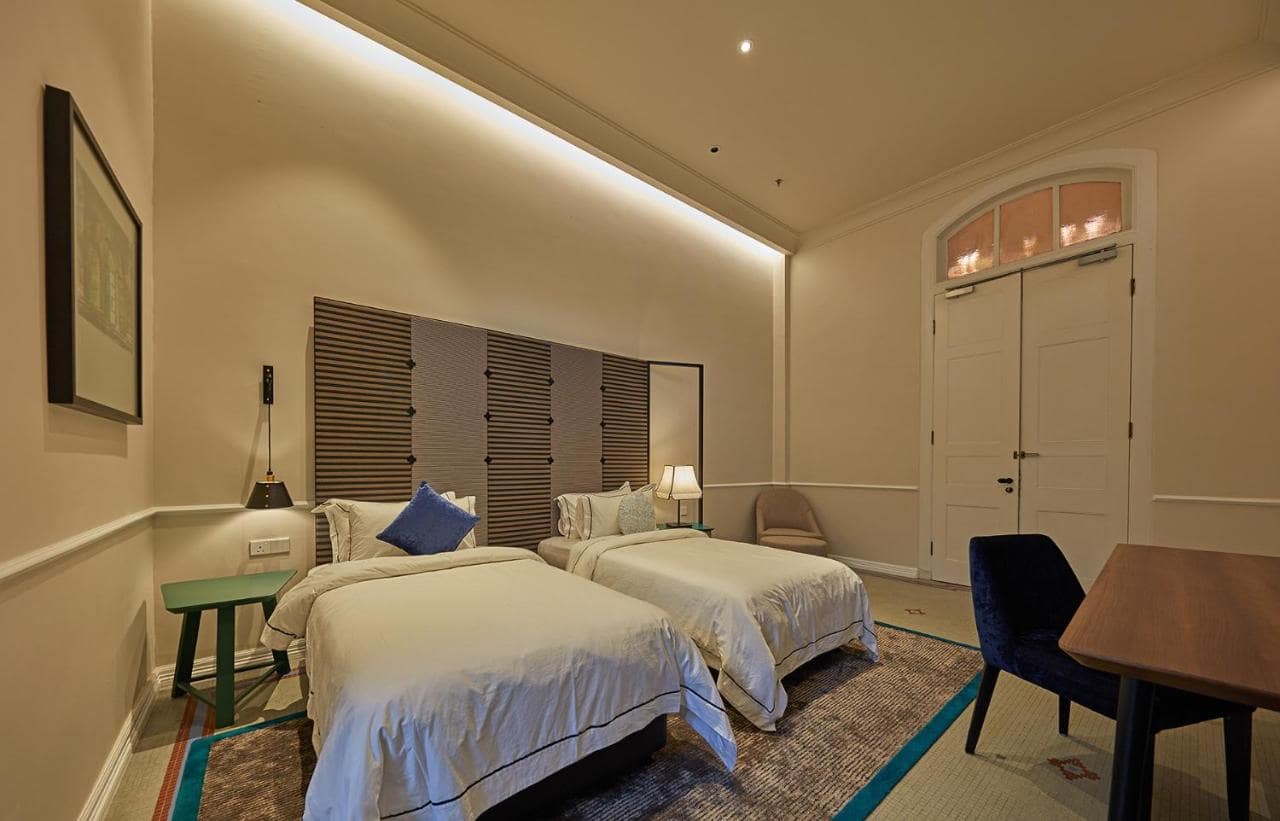 Image credit: Booking.com
Ranging from 19 to 61 sqm, accommodations span deluxe, deluxe twin, deluxe premium, and suite categories. The rooms celebrate Malaysian crafts, with Penan tribe hand-woven baskets for guests' use, alongside recycled timber trays and stationery boxes.
While the rooms offer a cosy escape, The Edison goes beyond with a 25-meter lap pool thoughtfully situated at the main building's side. Formerly a "health centre," this pool offers the perfect spot for refreshing laps and relaxation in the shallow waters with soothing bubble jet functions.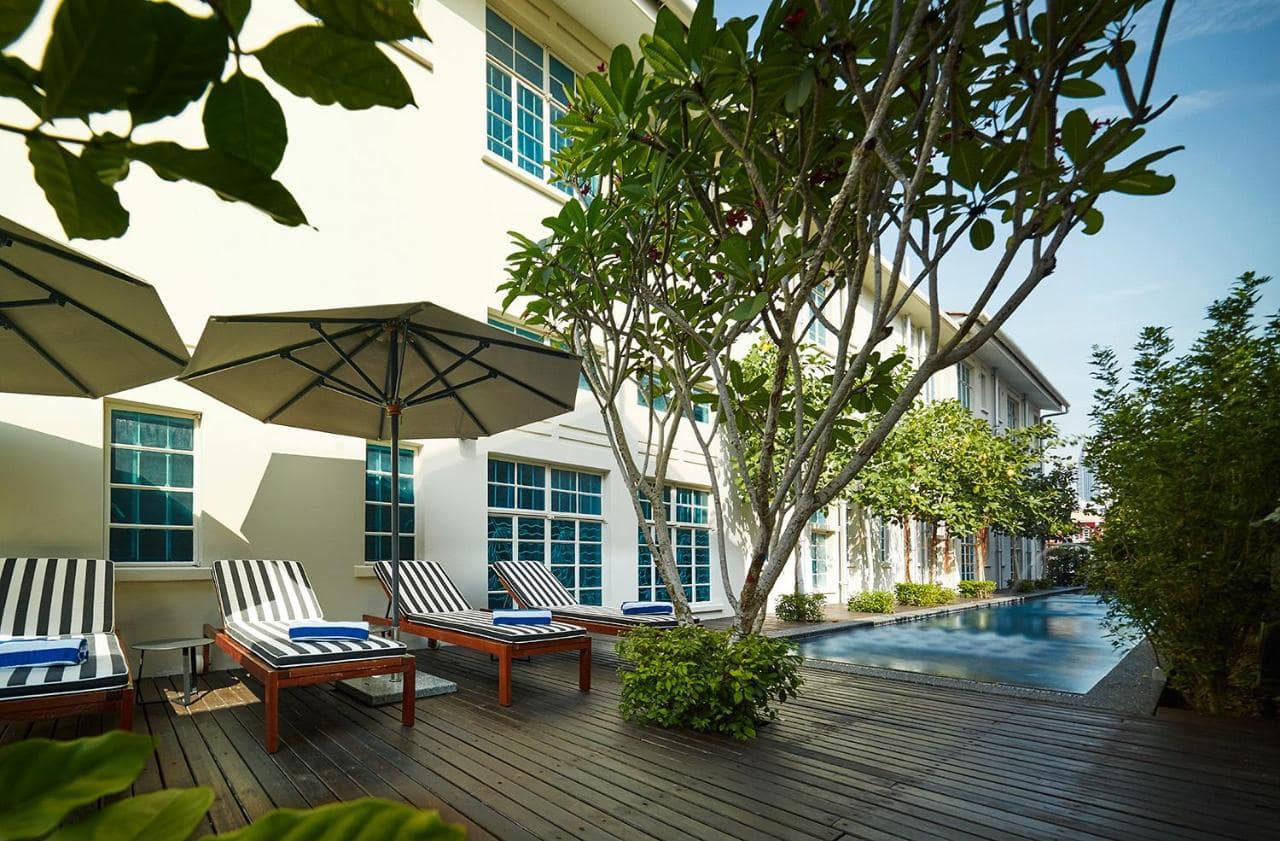 Image credit: Booking.com
Indulge in a delightful breakfast experience at The Lounge, a cheerful space basking in natural light. The continental spread features treats like eggs, toast, salad, and pastries, with local options like nasi lemak adding a flavorful touch.
Endless cups of juice, tea, or coffee await throughout the day, while local delicacies like chicken biscuits beckon. Even midnight cravings find solace here, with crackers, candies, and soothing green tea on offer.
What's Special?
Art Deco-inspired design within spacious rooms and suites.
Malaysian craftsmanship with in-room touches such as Penan tribe hand-woven baskets and recycled timber trays.
Price: $$. Find out the price here
Address: 15 Lebuh Leith, George Town, 10200 Penang, Malaysia
Campbell Hotel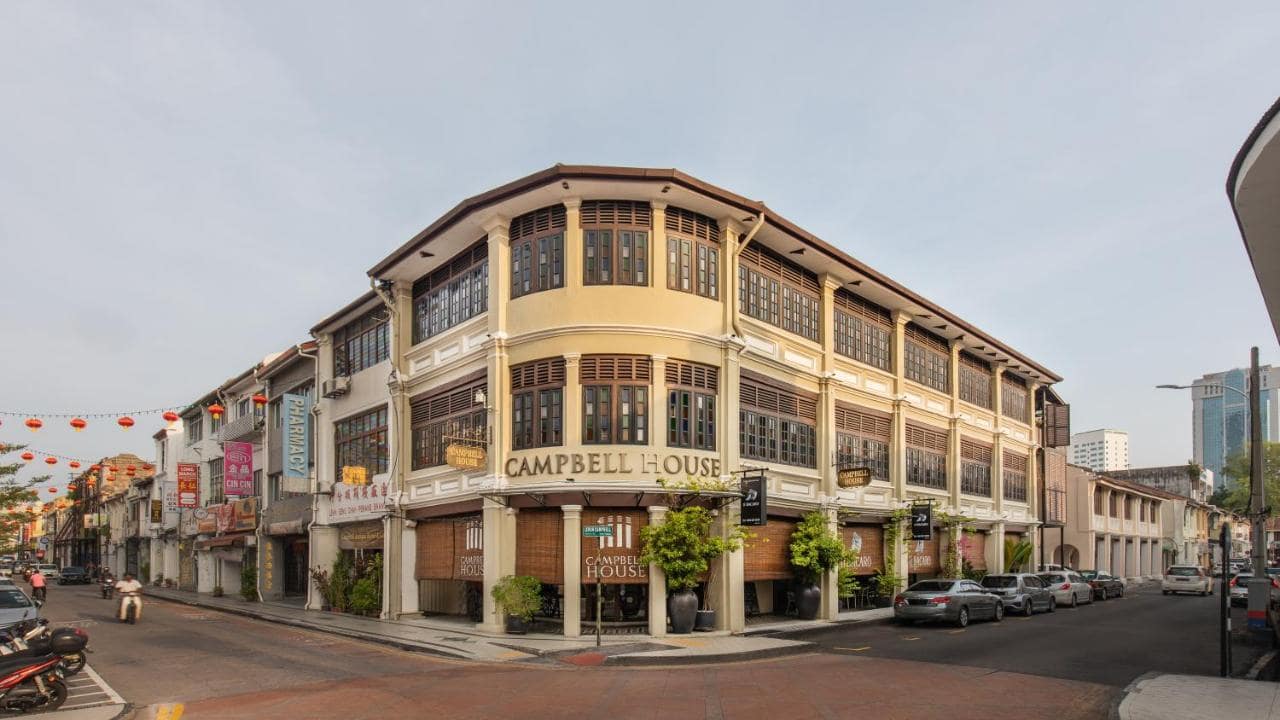 Image credit: Booking.com
Originally built in 1903 as a three-story budget hotel, it has since transformed into a sought-after haven that elegantly captures the essence of its heritage.
In 2008, enterprising hosts Roberto and Nardya breathed new life into the property, which had fallen into disrepair. Their dedication was unwavering, investing three years in metamorphosing the building into a luxury boutique hotel nestled in the city's heart.
Today, it is one of the most coveted retreats among discerning travellers exploring Penang. With delectable street eats a mere stroll away, guests can immerse themselves in heritage, culture, and cuisine while retreating to the hotel's modern comforts.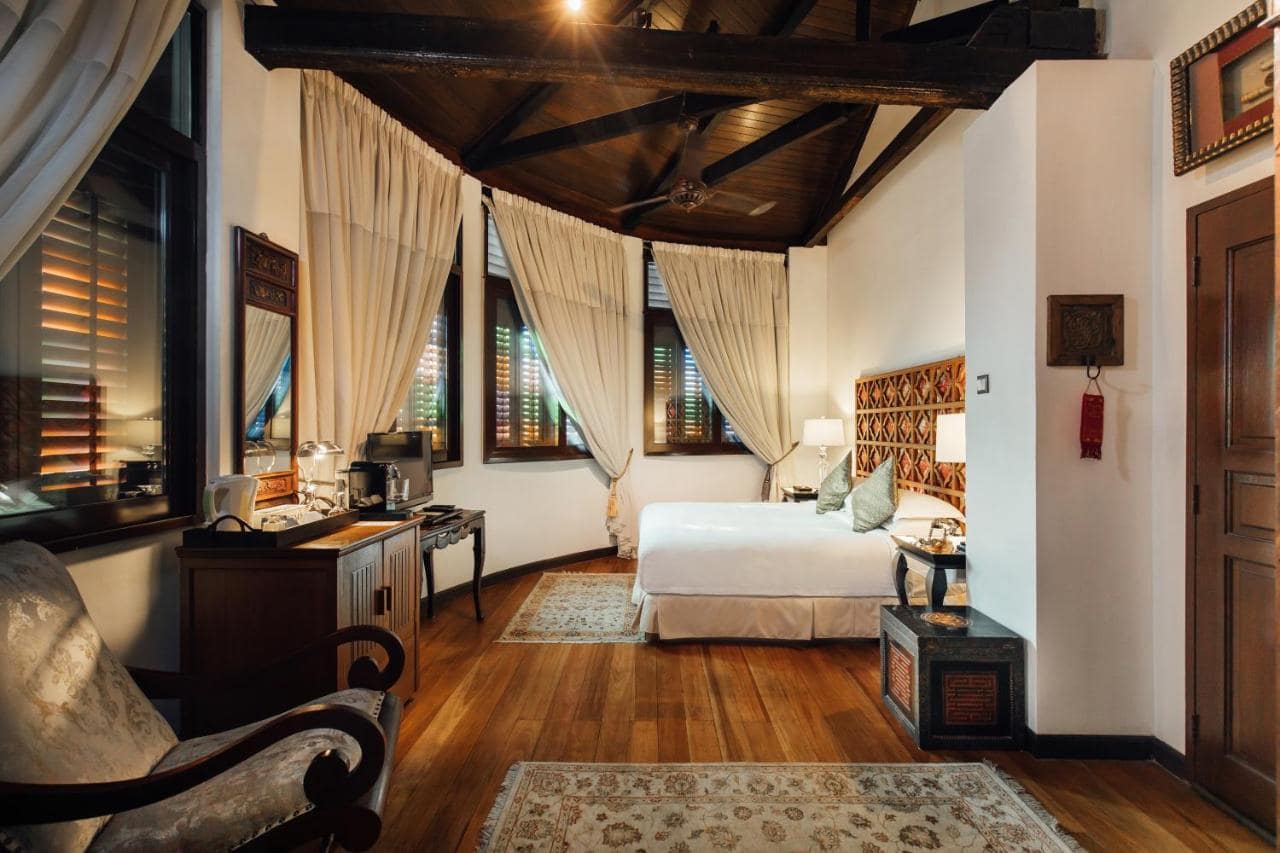 Image credit: Booking.com
Discover the allure of the past in the 12 unique rooms spread across two floors. Antiques and plush beds grace each room, adorned with captivating details like a gorgeous Chinese screen or an intricately inlaid mother-of-pearl opium bed.
The boutique experience is elevated with thoughtful extras, including Nespresso machines, complimentary minibar treats, and enchanting amenities.
The building's meticulous restoration has given rise to 11 individually designed guest rooms, a welcoming lobby, a cosy reading room, an inviting restaurant, and a rooftop terrace.
Smooth wooden floors and tastefully placed antique furnishings create an atmosphere of cultivated elegance. The hotel doubles as a gallery with local contemporary art gracing the halls, showcasing native talent.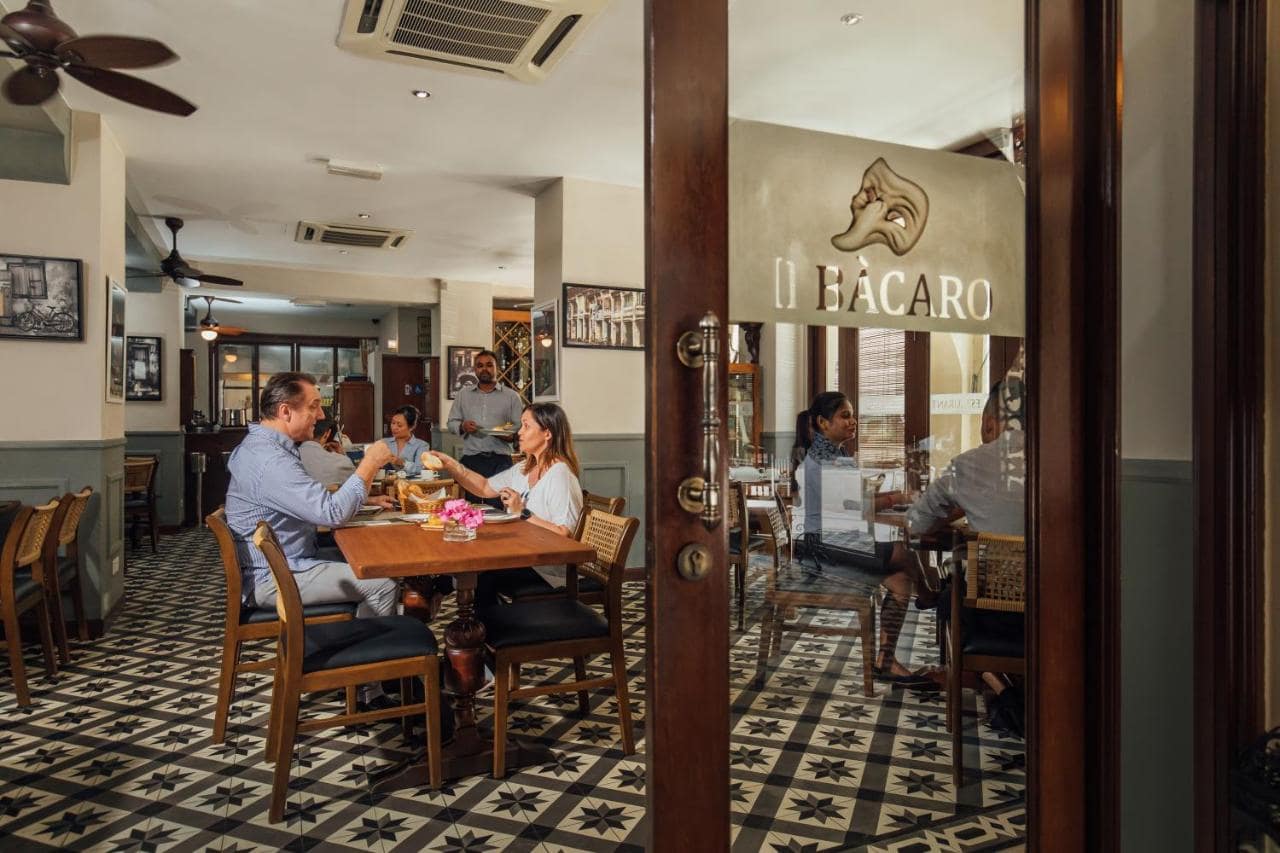 Image credit: Booking.com
Indulge in breakfast at Il Bacaro, the ground-floor restaurant adjacent to the hotel reception, where a blend of Western and local tropical delights await.
The communal spaces offer a sense of intimacy – from the cozy reception area with wooden benches to the inviting library on the first floor, complete with an array of local magazines, books, DVDs, and even a complimentary laptop for your convenience.
What's Special?
12 uniquely designed rooms adorned with antiques and intricate details.
Attention to detail – offering delightful touches like Italian sweets during evening turn-down service, refreshing glass jugs of water and iced tea, Nespresso machines for a caffeine fix, premium L'Occitane bath products, etc
Price: $$. View the pricing here.
Address: 106, Lebuh Campbell, George Town, 10100 George Town, Pulau Pinang
Cheong Fatt Tze (The Blue Mansion)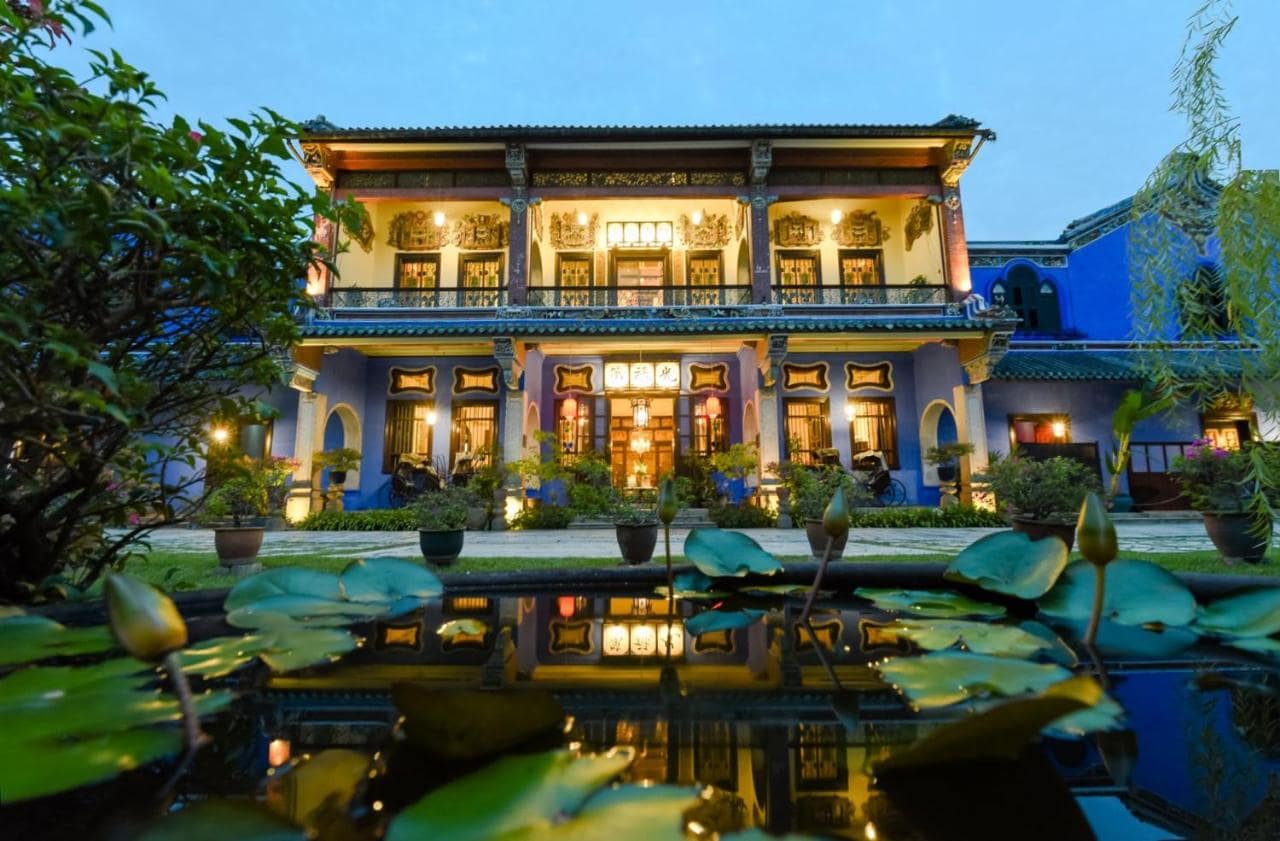 Image credit: Booking.com
Originally constructed in the late 1800s, this mansion is a testament to opulence and tradition, lovingly restored to its former glory by devoted custodians who champion heritage conservation.
Recognized with the esteemed "Most Excellent Project" award at UNESCO's Heritage Conservation Award 2000 and hailed among Lonely Planet's "10 Greatest Mansions in the World" in 2011, The Blue Mansion's fame extends beyond its walls, even making a memorable appearance in the cinematic splendor of Crazy Rich Asians.
At its heart, this mansion was the cherished residence of Chinese tycoon Cheong Fatt Tze, symboling his affluence and prosperity. Painstaking attention was given to the original craftsmanship and meticulous restoration, encapsulating its past magnificence.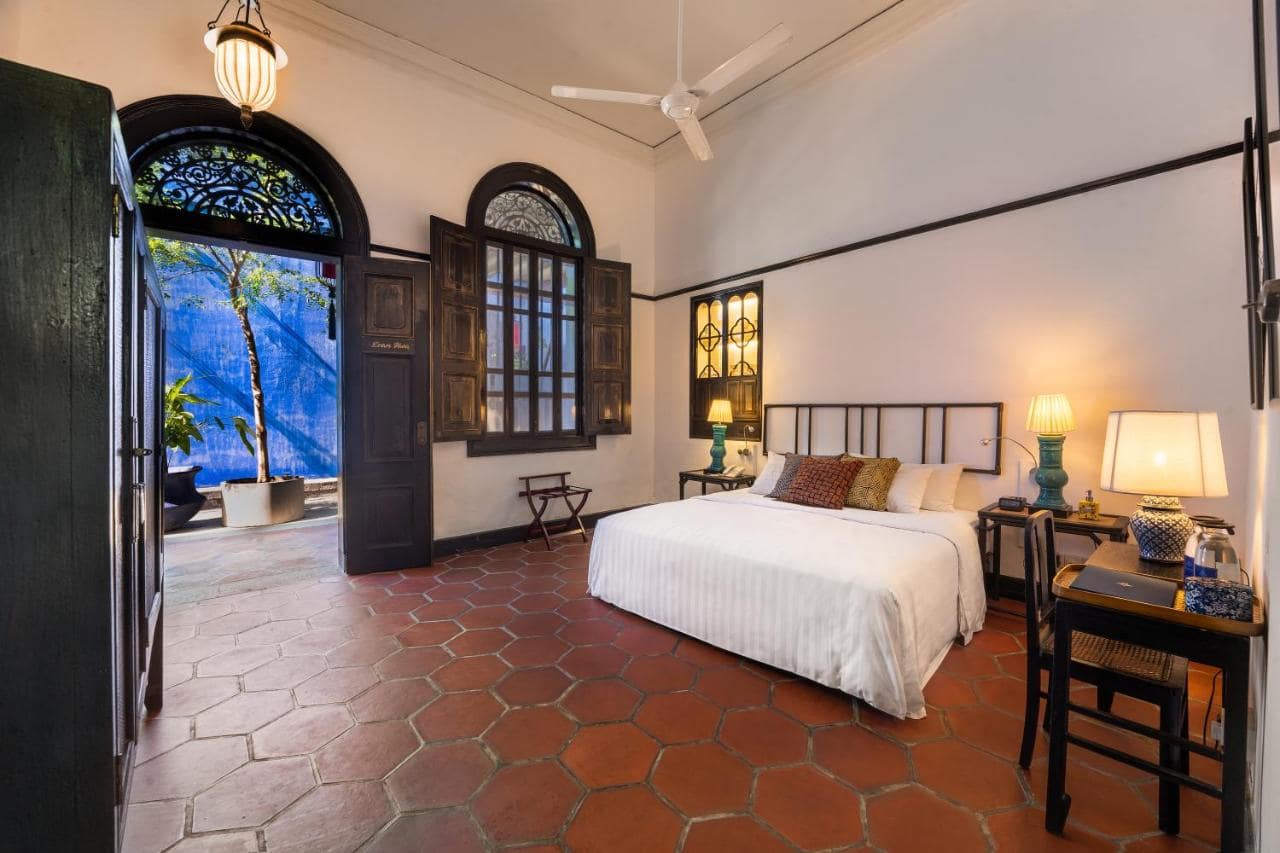 Image credit: Booking.com
Within the mansion's realm, the hotel offers an exclusive selection of 18 luxury guest rooms categorized into four splendid collections: the Liang Collection, the Ming Collection with direct pool access, the Tang Suites, and the Han Suites.
Each room is a living canvas that blends heirlooms and authentic 19th-century furniture with modern comforts, culminating in a unique experience.
At Indigo, the on-site restaurant nestled above the central courtyard, Eastern and Western cultures intertwine both on your plate and in the enchanting ambience, crafting dishes that resemble works of art themselves.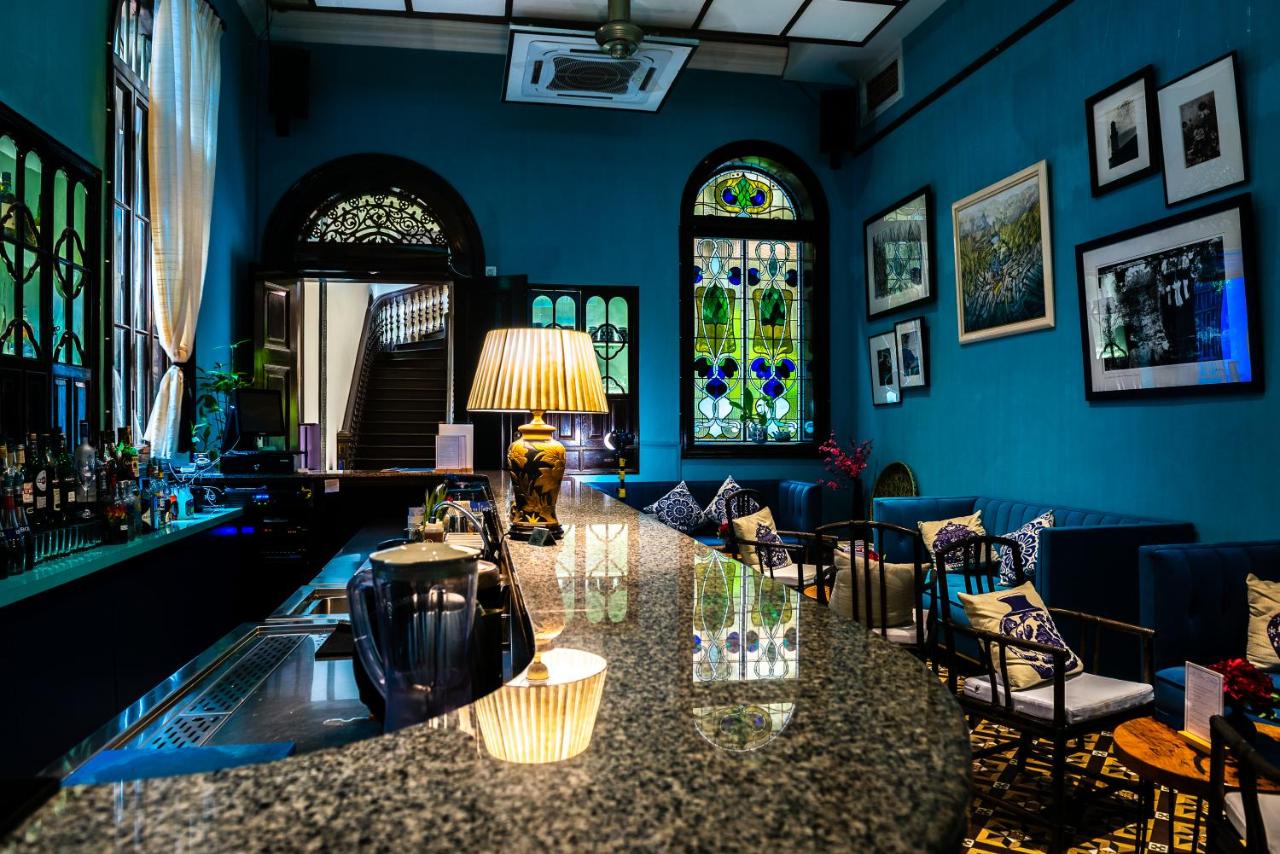 Image credit: Booking.com
Besides Indigo restaurant, the mansion has a serene courtyard dining room, and an idyllic terrace.
Daily guided mansion tours immerse you in its architectural heritage, while its strategic location places you within a 5-minute stroll of Penang's iconic China Town, Gurney Drive's seafront promenade, and other historic landmarks.
What's Special?
Iconic film location, famously featured in the movie "Crazy Rich Asians."
Meticulously restored mansion and its intricate architectural details, offer a feast for the eyes at every turn.
A guided mansion tour that unveils the life and legacy of Cheong Fatt Tze.
Pricing: $$$. Find out the price here.
Address: 14, Lebuh Leith, George Town, 10200 George Town, Pulau Pinang
Best Contemporary Hotels in Georgetown Penang
For those who seek modern comfort and style, Georgetown also boasts contemporary hotels that provide every convenience you could desire. These contemporary havens bring urban sophistication to this charming city, perfectly balancing heritage and modernity.
G Hotel Gurney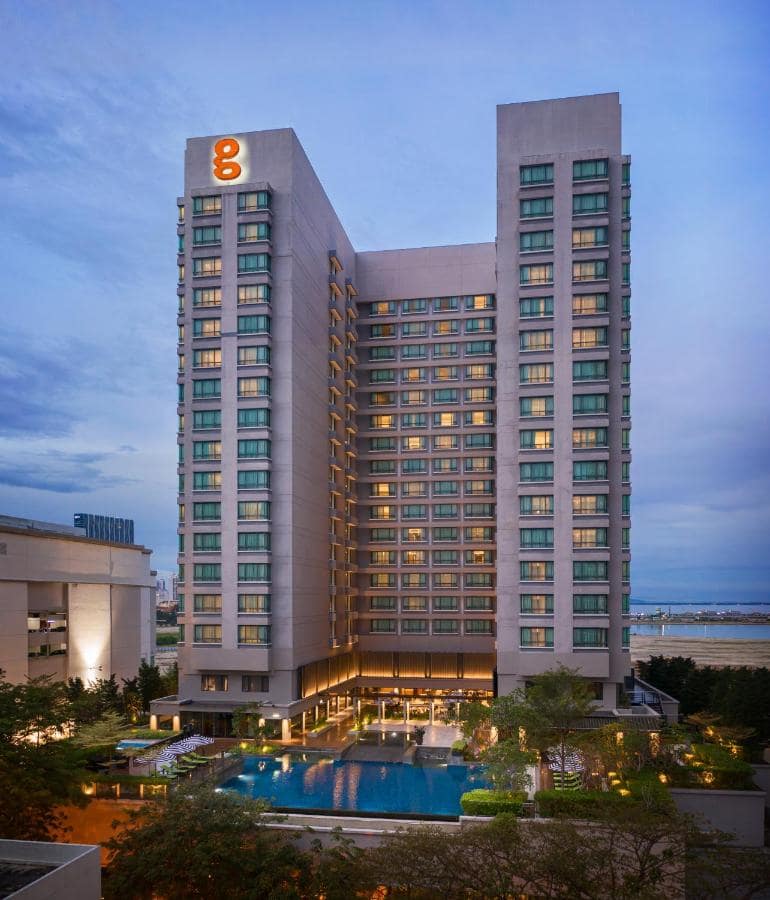 Image credit: Booking.com
G Hotel Gurney, a four-pearl urban haven nestled across from the renowned Gurney Drive beach. Simplicity meets style throughout the decor, with a lobby that exudes character through captivating accents and furnishings.
This hotel offers 312 spacious and modern guest rooms, striking the perfect balance between sleek minimalism and understated sophistication.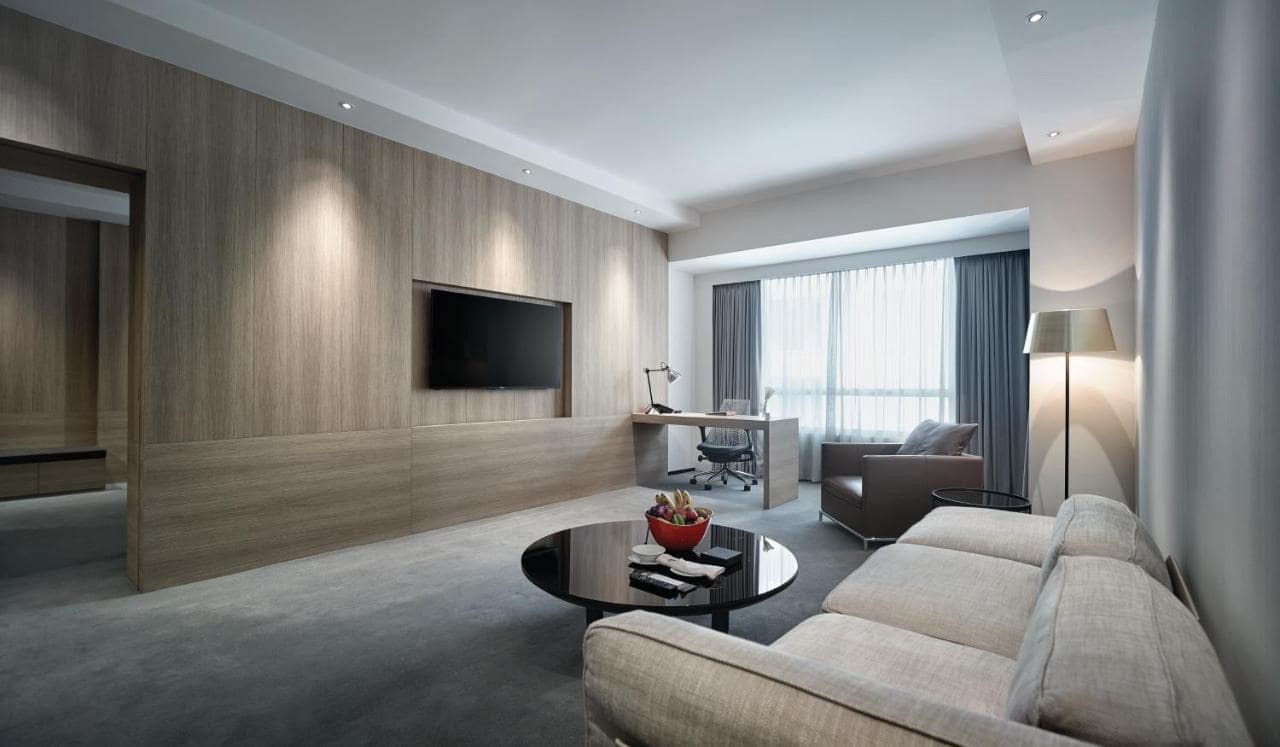 Image credit: Booking.com
Each guest room features a soft, neutral palette and spacious layouts that create a calming ambience. Modern conveniences include complimentary Wi-Fi, flat-screen TVs, and a free minibar. While balconies are absent, large windows flood the rooms with natural light, some offering pleasant water views.
The bathrooms maintain the hotel's modern aesthetic, boasting Appelles toiletries, walk-in showers, and a hairdryer. Executive Room guests enjoy exclusive access to the Executive Lounge, offering complimentary shoeshine services and refreshing beverages.
A fully equipped gymnasium and a business centre cater to fitness enthusiasts and professionals, while an inviting infinity pool on the 24th floor provides a breathtaking panorama of Penang's landscape.
Image credit: Booking.com
Dining and leisure choices abound, from the Tree Bar's alfresco scene to the well-reviewed offerings of the café, Japanese restaurant, Chili's, coffee shop, and pool bar.
For those seeking relaxation, a small spa and hair salon offer a variety of treatments, while business travellers can utilize expansive meeting facilities boasting tech-savvy features.
The hotel's strategic location near vibrant malls like Gurney Paragon and Gurney Plaza and the iconic Gurney Drive ensures you're never far from the city's pulse.
What's Special?
Offers a harmonious blend of simplicity and sophistication that resonates with modern travellers.
The 24th-floor infinity pool provides a serene escape with stunning panoramic views of Penang's cityscape
Easy access to vibrant malls, including Gurney Paragon and Gurney Plaza. and culinary delights of Gurney Drive.
Price: $$$. Discover the latest price here
Location: 168A, Persiaran Gurney, 10250 George Town, Pulau Pinang
The Granite Luxury Hotel Penang
Image credit: Booking.com
The Granite Luxury Hotel in George Town, Penang presents a fusion of opulent comfort and cutting-edge design. Comprising the Aurum and Onyx wings, it offers 52 single/double rooms and 100 suites, each designed to cater to diverse preferences.
With its renowned Tallest Automated Hotel Car Park and the Highest Cantilevered Acrylic Bottom Swimming Pool, this unique establishment is a true testament to architectural marvels.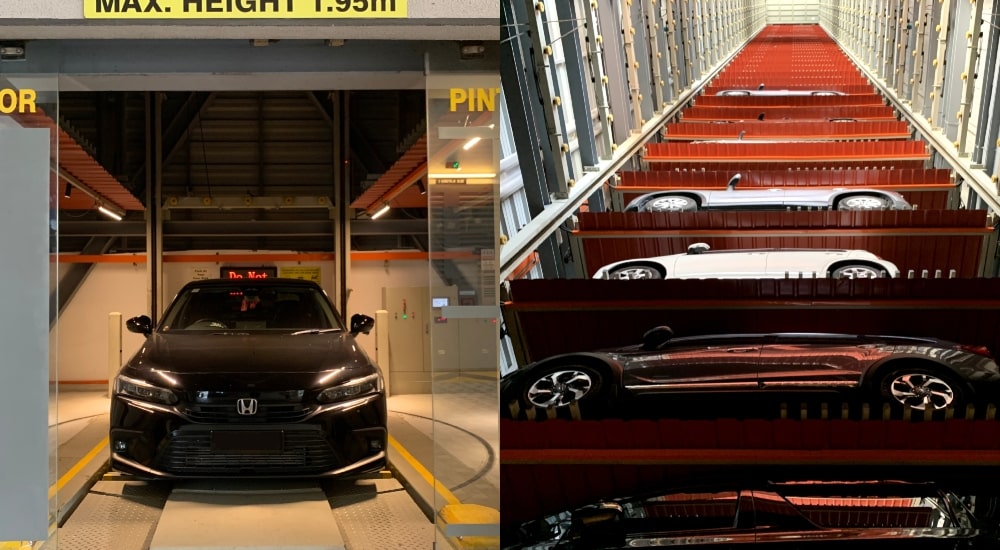 Image credit: Seth Lui
The Granite Luxury Hotel boasts an array of executive suites, each meticulously crafted to provide an unparalleled stay experience. Every detail exudes elegance and sophistication from The Deluxe Suite to The Razzle Business Suite.
Guests can revel in the Sky Lounge on Level 20, enjoy high-speed Internet access, and explore the extensive amenities, including a well-equipped gym, a versatile function room, and a convenient travel desk.
The highlight of the hotel is The Mirage Pool Deck, home to Malaysia's Highest Cantilevered Acrylic Bottom Swimming Pool. Here, thrill-seekers can immerse themselves in a truly unique experience, swimming above the world on the 14th floor.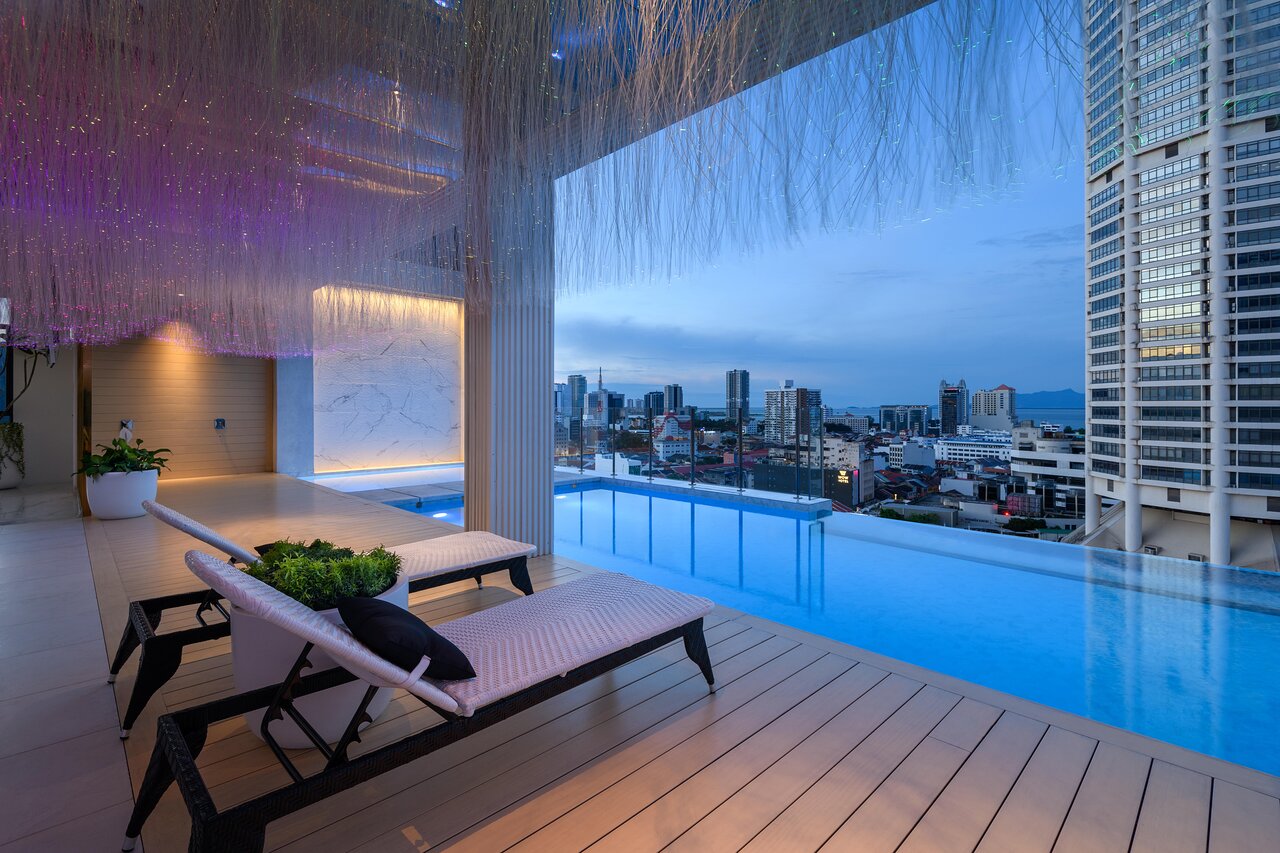 Image credit: Booking.com
As evening descends, Attic 23, an iconic rooftop bar, offers an enchanting panoramic view of George Town, making it the perfect spot to unwind and enjoy the cityscape.
Its prime location opposite Komtar and its luxurious accommodations and unparalleled features make it an inviting destination for business, leisure, and special occasions.
What's Special?
The hotel's Tallest Automated Hotel Car Park, recognized in the Malaysia Book of Records, offers a high-tech entrance and a vertical parking structure across three towering towers, accommodating over 200 cars.
The Mirage Pool Deck, Malaysia's Highest Cantilevered Acrylic Bottom Swimming Pool, provides an exhilarating swimming experience with a glass platform that offers a captivating view of George Town from a substantial height.
Attic 23, the rooftop bar situated in the heart of George Town, offers a stunning panoramic view of the city. Guests can unwind and enjoy refreshing drinks while taking in the breathtaking cityscape
Price: $$$. Find out more details here.
Address: 191A, Magazine Road, 10300 Georgetown, Penang, Malaysia
The Wembley – A St Giles Hotel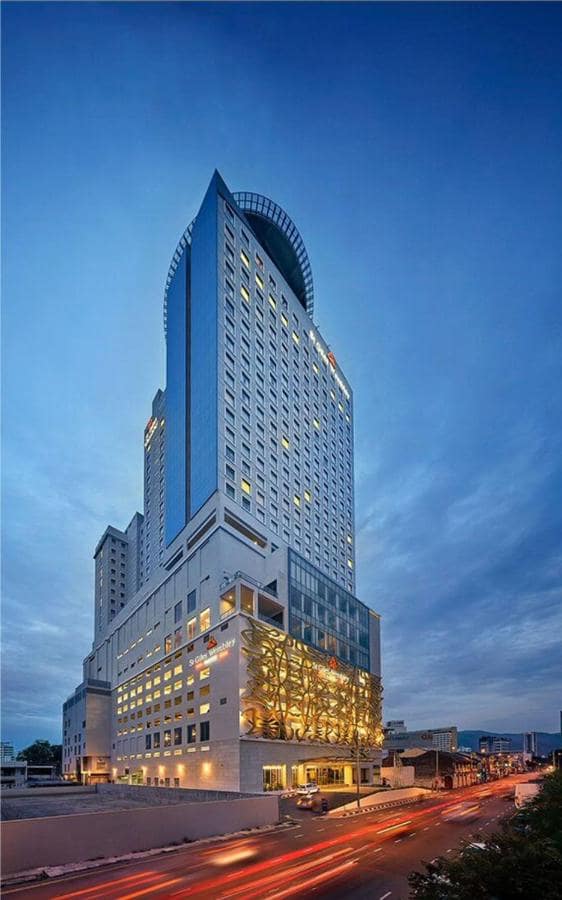 Image credit: Booking.com
The Wembley by St Giles Hotel is an impressive tower housing 415 lavish and spacious rooms. Situated just steps away from the iconic The Top Komtar, this towering haven is a true gem in the city's heart.
The hotel's crowning jewel is its salt-water infinity pool on the 11th floor which presents panoramic views of the city, with the prominent Komtar building as a striking backdrop.
For fitness enthusiasts, the gym on the same floor is a welcoming space, open daily until 10 p.m. Business travellers find solace in the Executive Lounge on Level 30, providing separate check-in and check-out services.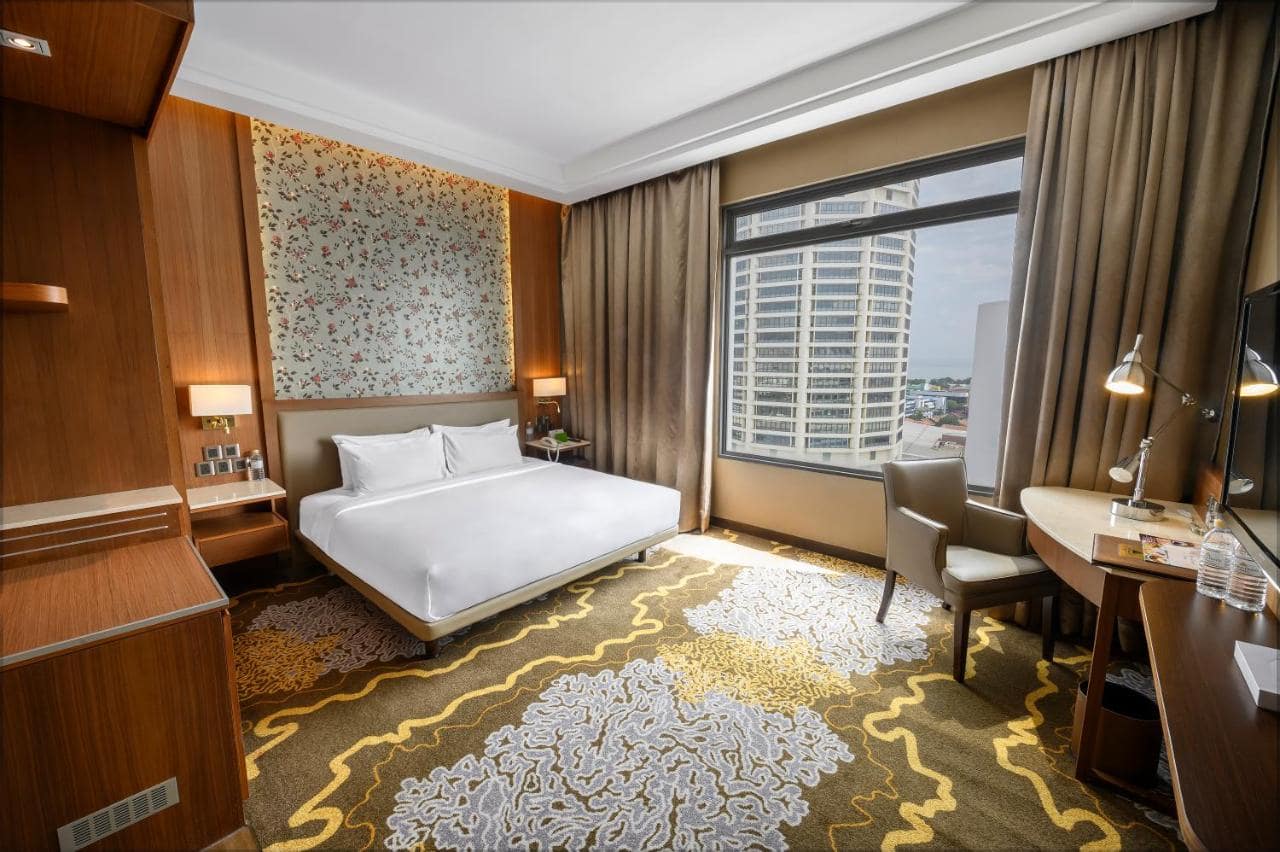 Image credit: Booking.com
The Wembley Cafe beckons with a delectable array of options, spanning local favourites, Asian delights (including Japanese cuisine), and Western fares. Begin your day with a satisfying buffet breakfast or enjoy themed buffet dinners in a contemporary ambience perfect for relaxation.
As the sun sets, ascend to new heights at the D'Shining Roof Top (DSRT) Sky Room on the 31st floor. This rooftop bar offers a picturesque view of Penang Island and beyond, providing the ideal backdrop for memorable evenings.
Image credit: Booking.com
What's Special?
An infinity pool on the floor with breathtaking scenery
An in-house bar, DSRT Sky Room, which serves various drinks in a cosy setting
Walk distance to various Georgetown tourist attractions such as TheTop Komtar and local eateries
Price: $$. You can find out more here.
Address: 183, Jalan Magazine, George Town, 10300 George Town, Penang
Voux Hotel Suites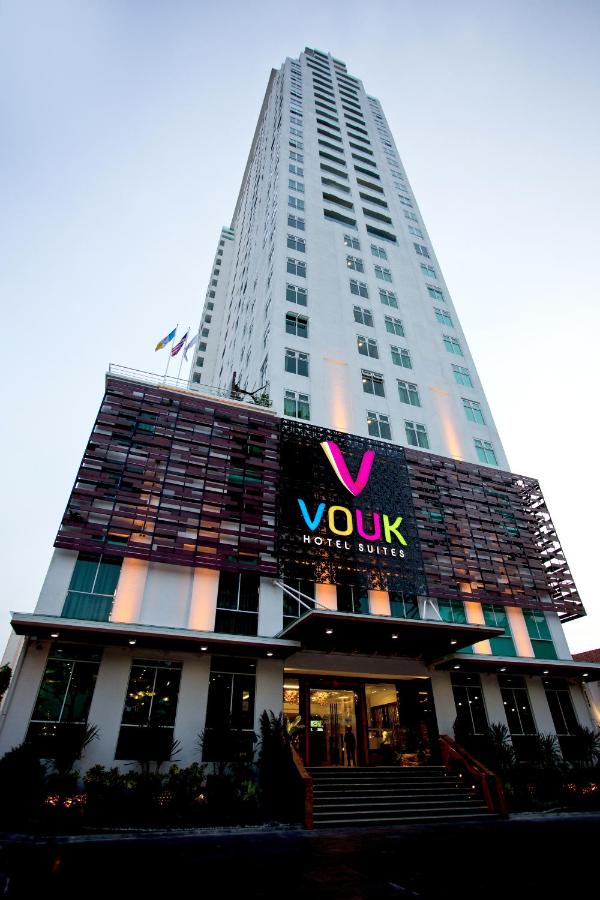 Image credit: Booking.com
Vouk Hotel Suites in Georgetown Penang stands as a contemporary high-rise hotel located on the outskirts of downtown Georgetown, Penang. It shares the building with Vouk Suites @ Mansion One, a Condotel-style property highly recommended for families or those seeking extended stays in Penang.
Sleek simplicity and abundant natural light, offering amenities such as flat-screen TVs, complimentary Wi-Fi, and well-stocked minibars define these accommodations. Many rooms feature charming balconies with double daybeds, inviting relaxation while enjoying the view.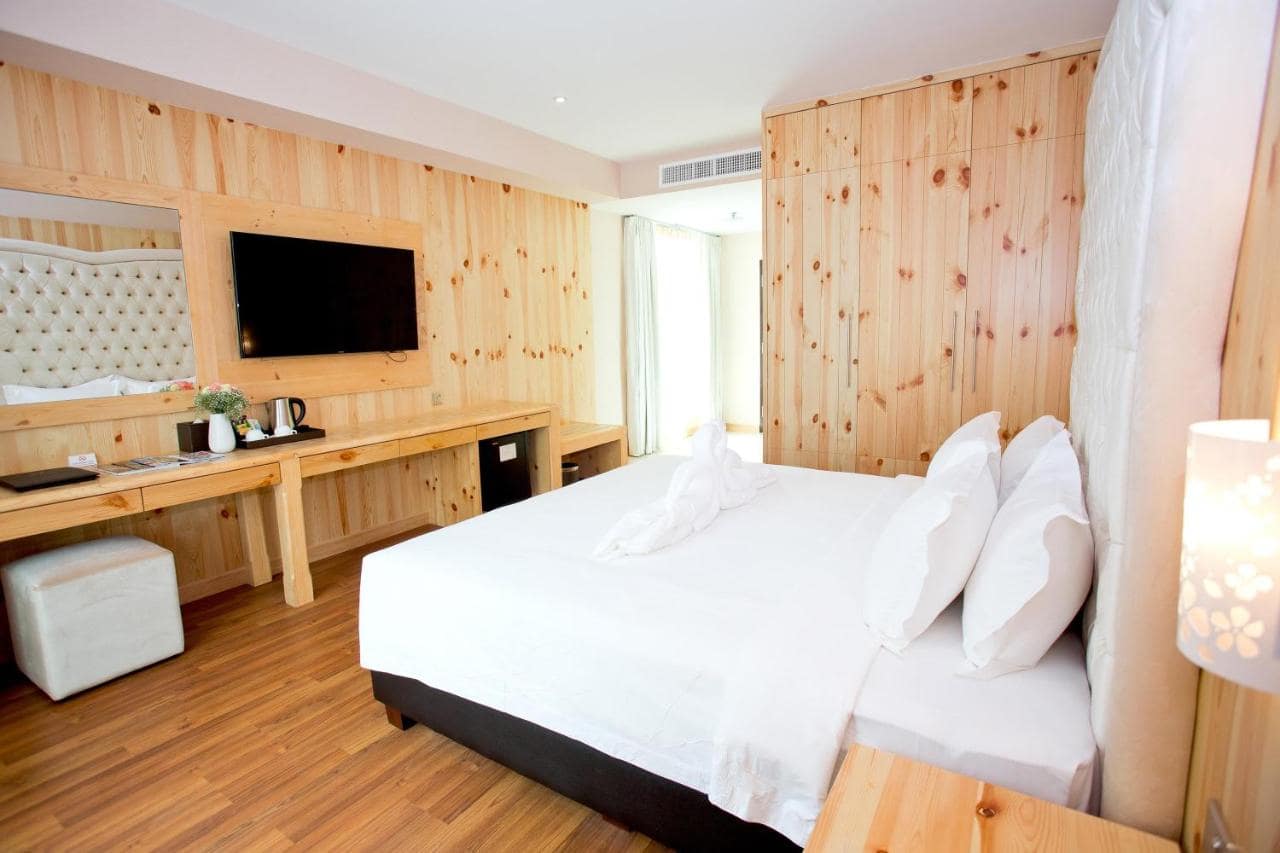 Image credit: Booking.com
Bathrooms echo the hotel's modern aesthetic, boasting stylish design elements, rain showers, and elegant oval sinks over white stone counters. From Deluxe Rooms to Suites, you'll find an array of configurations, each thoughtfully appointed to create a restful environment.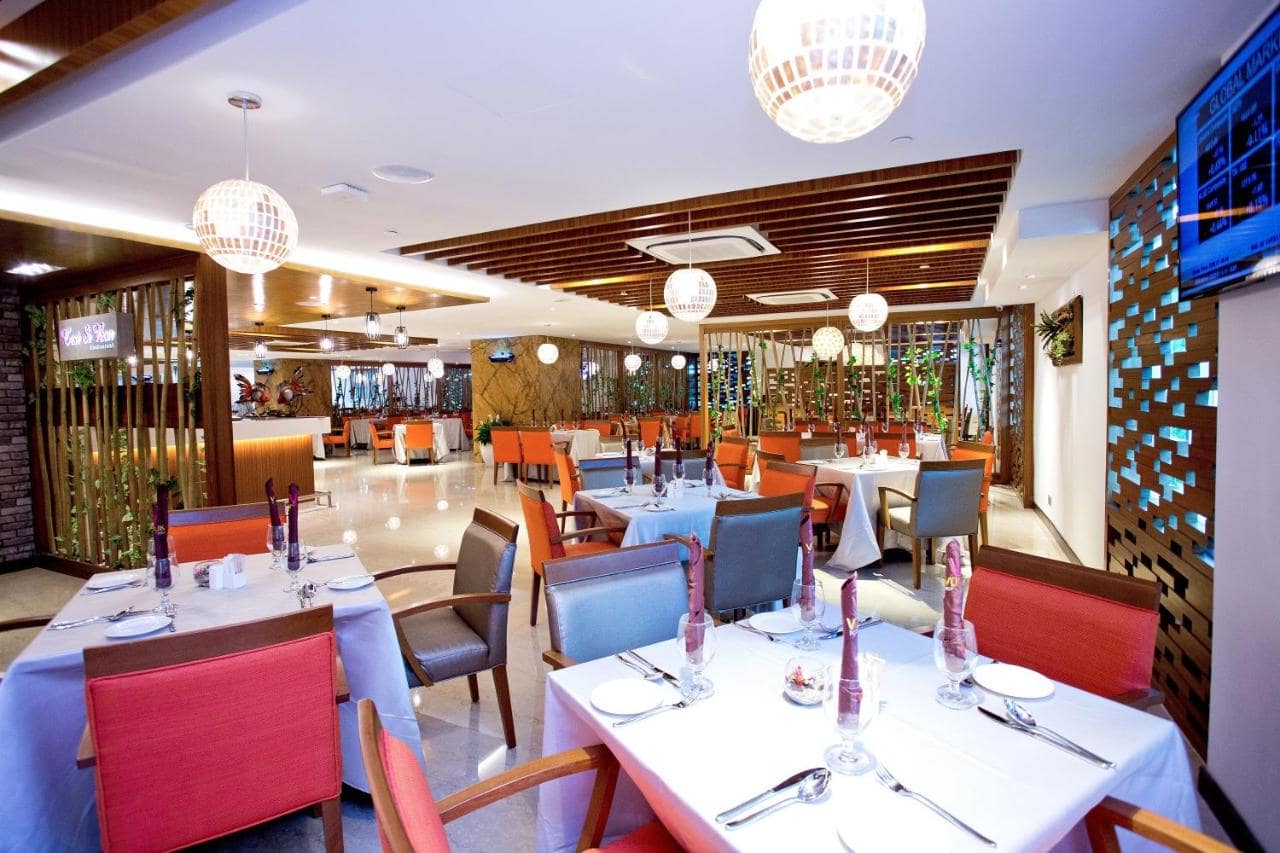 Image credit: Booking.com
Vouk Hotel & Suites promises comfort and convenience, with complimentary shuttle service to Bali Collection and Geger Beach. The hotel's thoughtfully designed amenities and serene setting will provide a rejuvenating contrast to your adventures as you explore the vicinity.
What's Special?
Two breakfast choices (Either at 2nd-floor restaurant, C'est Si Bon or Hardwicke House, a colonial mansion next to the hotel)
Affordable price
Close to various tourist attractions and free shuttles to Gurney Plaza
Price: $. Find out more here.
Address: Vouk Hotel Suites, Jln Sultan Ahmad Shah, Georgetown, 10050 George Town, Penang
Hotel Jen Penang by Shangri-La

Image credit: Booking.com
Following a rejuvenating renovation 2017, this upscale gem offers 443 rooms that perfectly blend comfort with hip design. Whether you're a leisure seeker or a business traveller, Hotel Jen Penang promises a dynamic experience with its central location and ample leisure amenities.
Each of the 443 rooms showcases a modern and sleek design, infused with hip elements that resonate with the city's pulse. From the moment you step in, you'll find yourself surrounded by all the essentials – free Wi-Fi, work desks, and tea- and coffee-making facilities – ensuring a seamless stay.
Some rooms offer kitchenettes, living spaces, and bathrooms with separate tubs and showers, providing a touch of home away from home.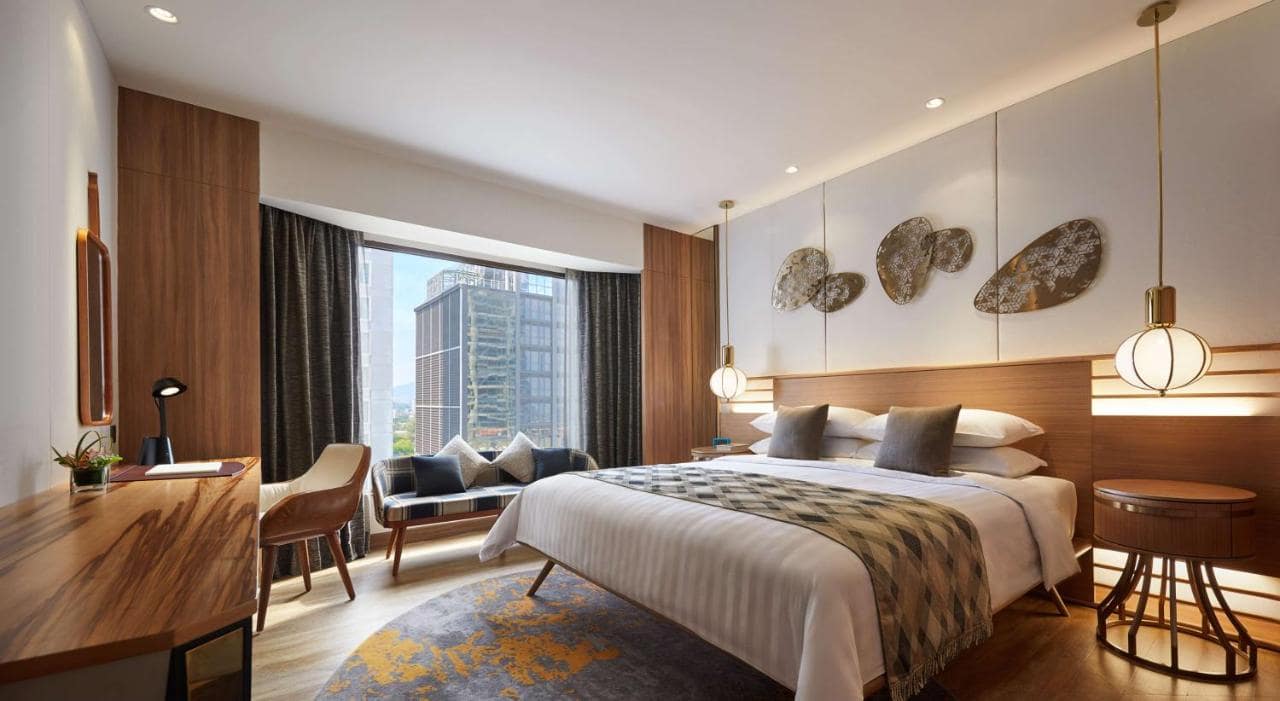 Image credit: Booking.com
Club-level guests are in for a treat, gaining access to the exclusive Club Lounge, where free breakfast, drinks, snacks, and even a daily happy hour await. The relaxed atmosphere of the lobby with its chic decor, wooden-slat bench, and vibrant accents sets the tone for your contemporary retreat.
Dining at Hotel Jen Penang is a delightful journey of flavors. Café Jen, a contemporary buffet restaurant, takes you on a culinary exploration of Asian and international dishes, including a standout breakfast spread.
For a more laid-back experience, the Lobby Lounge offers light fare and beverages, while the Islander Restaurant satisfies your cravings within the comforts of the hotel.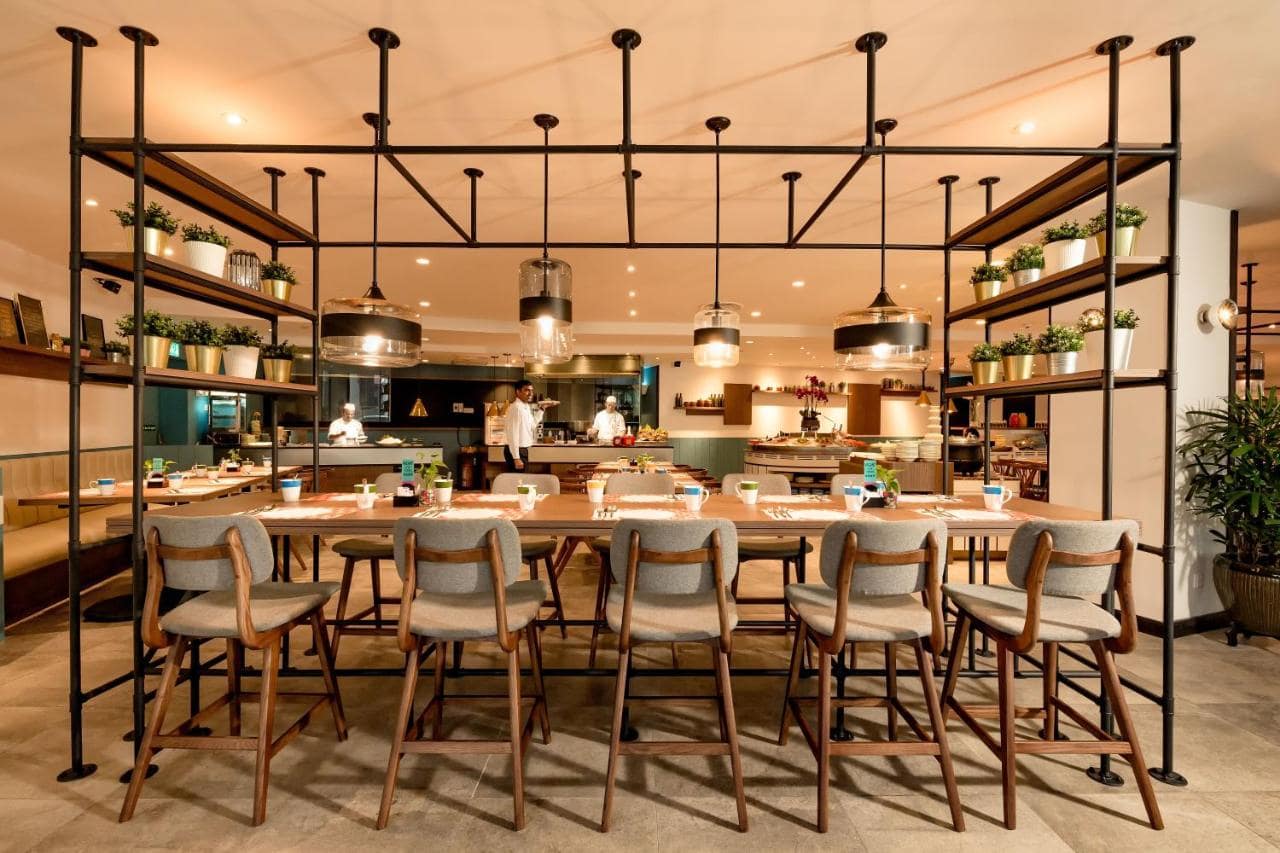 Image credit: Booking.com
What's Special?
Prestigious Club Lounge offers their VIP guests a daily two-hour happy hour.
Just a stone away from Georgetown's famous attractions such as The Top Komtar and Penang Road Famous Teochew Chendol
Pricing: $$. Check out the latest price here.
Address: Magazine Rd, George Town, 10300 George Town, Pulau Pinang
Sunway Hotel Georgetown Penang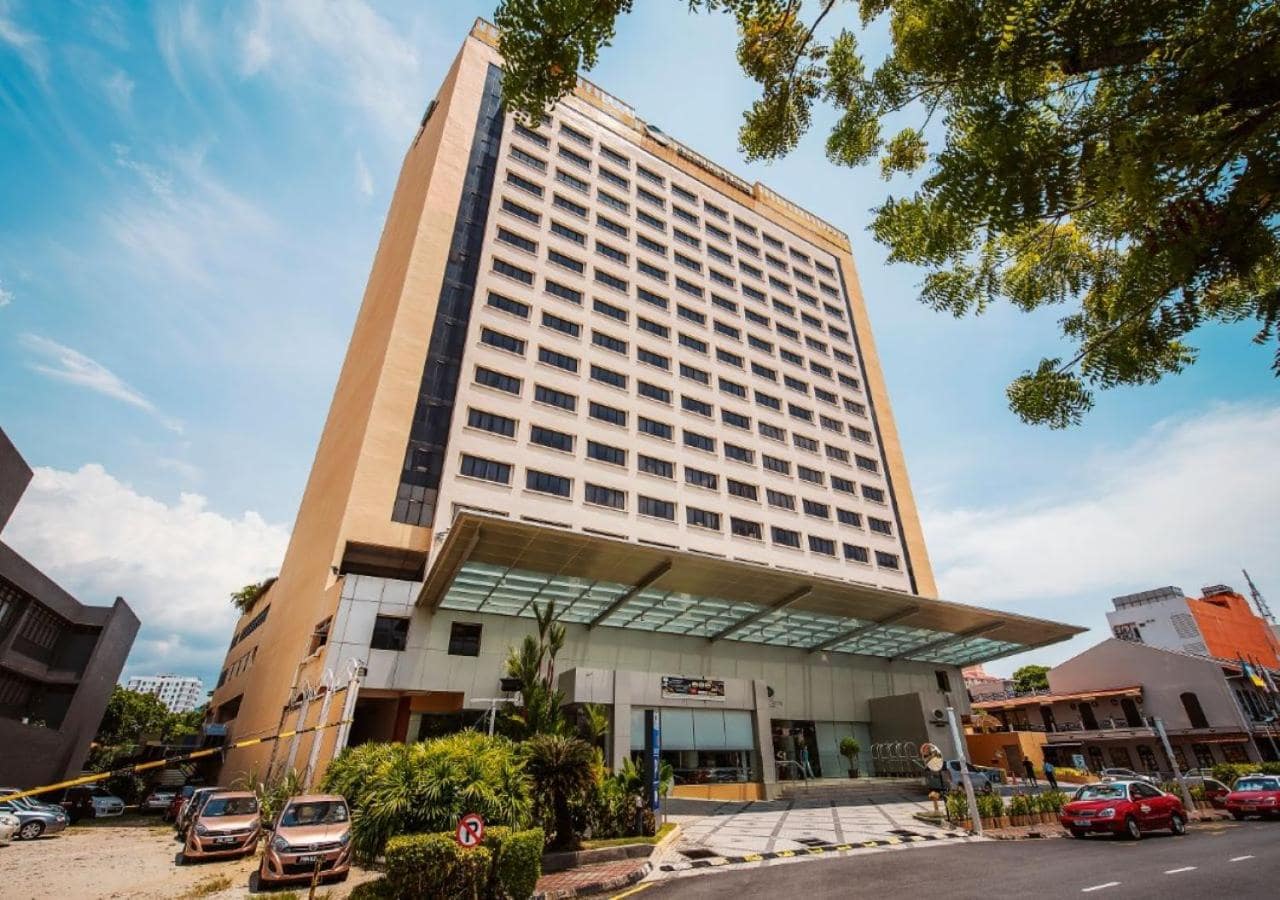 Image credit: Booking.com
Sunway Hotel Georgetown offers a sleek and modern retreat catering to business travellers and leisure enthusiasts. Boasting a strategic location near New Lane Hawker Centre and Penang Times Square, this three-and-a-half-pearl haven is an ideal base for experiencing the city's dynamic street food scene.
A corporate yet inviting atmosphere sets the tone upon stepping into the hotel. Clean interiors, adorned with white tile floors and marble reception desks, greet guests with a sense of comfort.
The 250 contemporary guest rooms epitomize modern elegance, characterized by soft neutral hues accented by pops of purple floral art. Spacious and equipped with essential amenities, the rooms offer a tranquil relaxing space.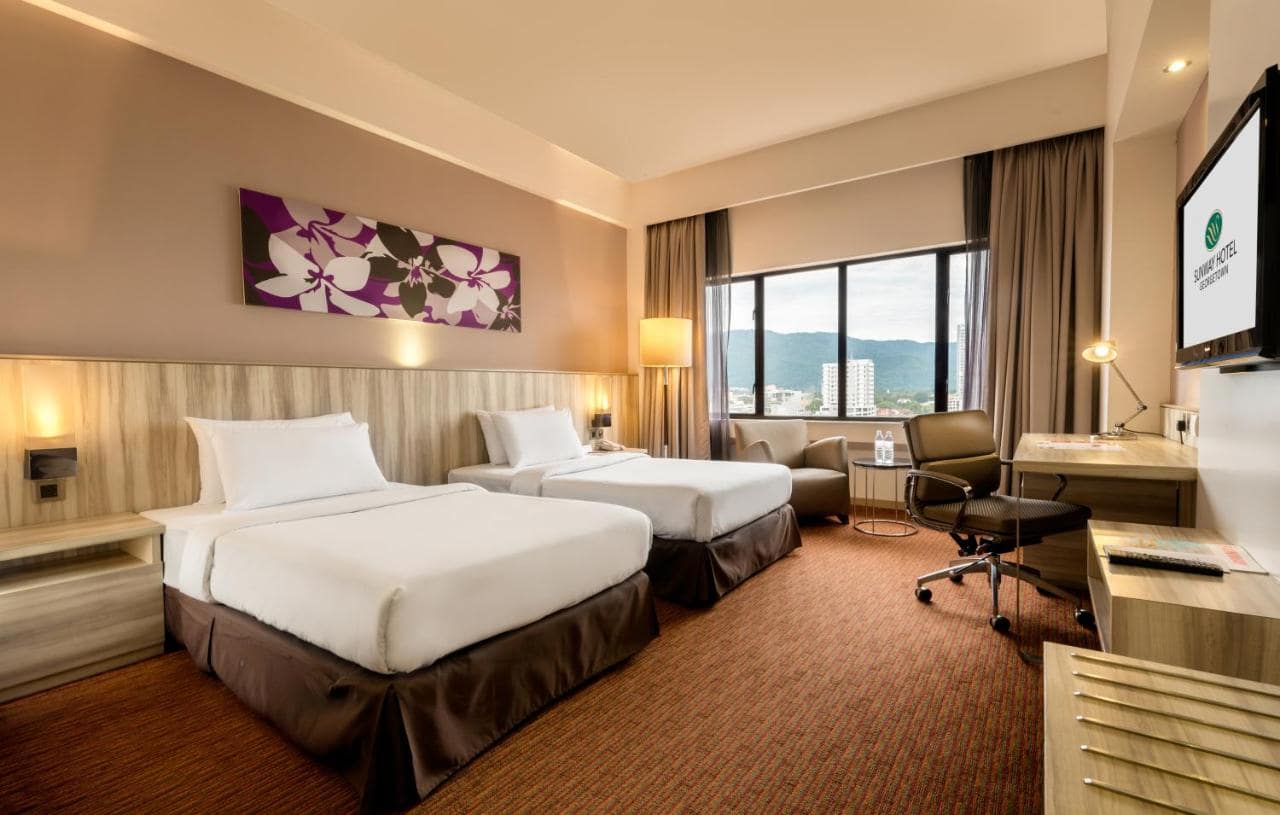 Image credit: Booking.com
Dining experiences at Sunway Hotel Georgetown encompass a journey of flavors. Sun Cafe, an all-day dining venue, blends neutral tones with vibrant orange walls adorned with autumn leaf murals.
Catering to diverse palates, the cafe serves a mix of local and international cuisines, inviting guests to savor delectable bites throughout the day.
For those seeking exclusivity, the Club Lounge pampers Club-level room and suite guests with an array of privileges, including complimentary breakfast, afternoon tea, and evening drinks.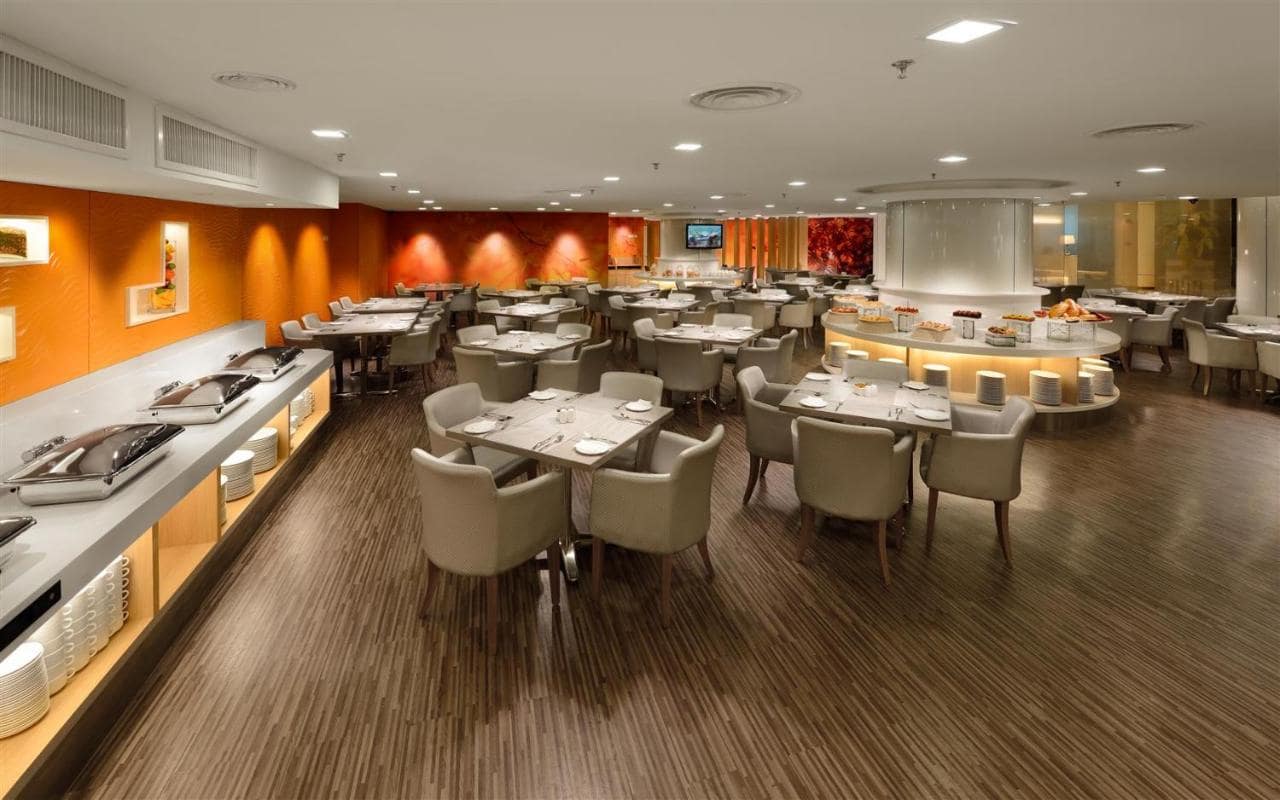 Image credit: Booking.com
The hotel harmonizes business and leisure seamlessly, featuring various facilities for both. Business travellers benefit from meeting rooms and a well-equipped business centre.
At the same time, leisure visitors can unwind at the rooftop's small outdoor pool and hot tub, enjoying a view of the city. A fitness centre caters to those seeking to maintain their routine, while free Wi-Fi is accessible throughout the property.
What's Special?
Near the lively New Lane Hawker Centre, offering a gateway to the city's bustling street food scene
Exclusive Club Lounge offers Club-level guests an array of privileges, from complimentary breakfast and afternoon tea to evening drinks.
Pricing: $$. Find the latest pricing here.
Address: 33, Lorong Baru, George Town, 10400 George Town, Pulau Pinang
SAVV Hotel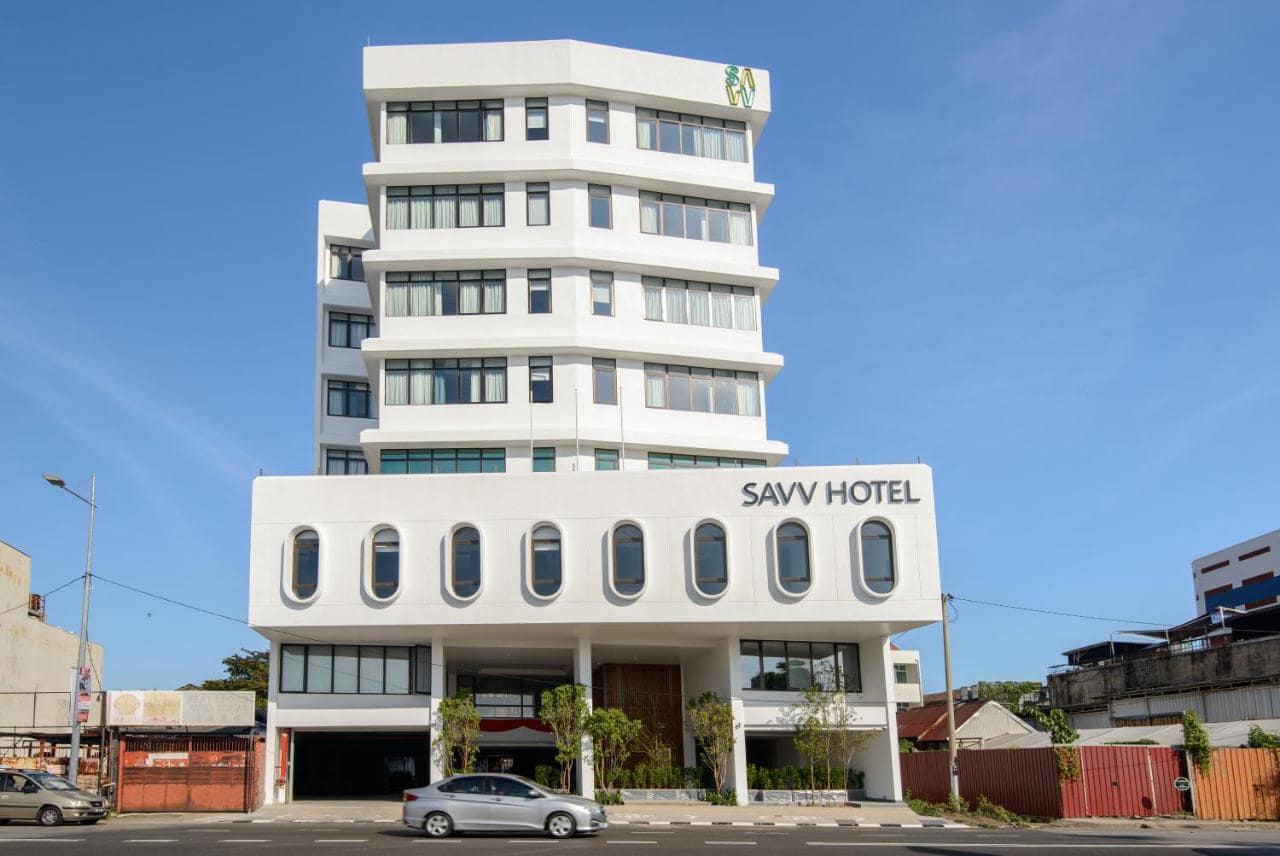 Image credit: Booking.com
SAVV Hotel, another boutique gem located in the heart of George Town's UNESCO World Heritage Site.
Housed in a charmingly renovated heritage building once dedicated to port commerce, the hotel seamlessly blends old-world charm with contemporary convenience. With 46 thoughtfully designed rooms, including wheelchair-friendly options, SAVV Hotel offers a range of spaces from cozy Cabins to spacious Studios for families.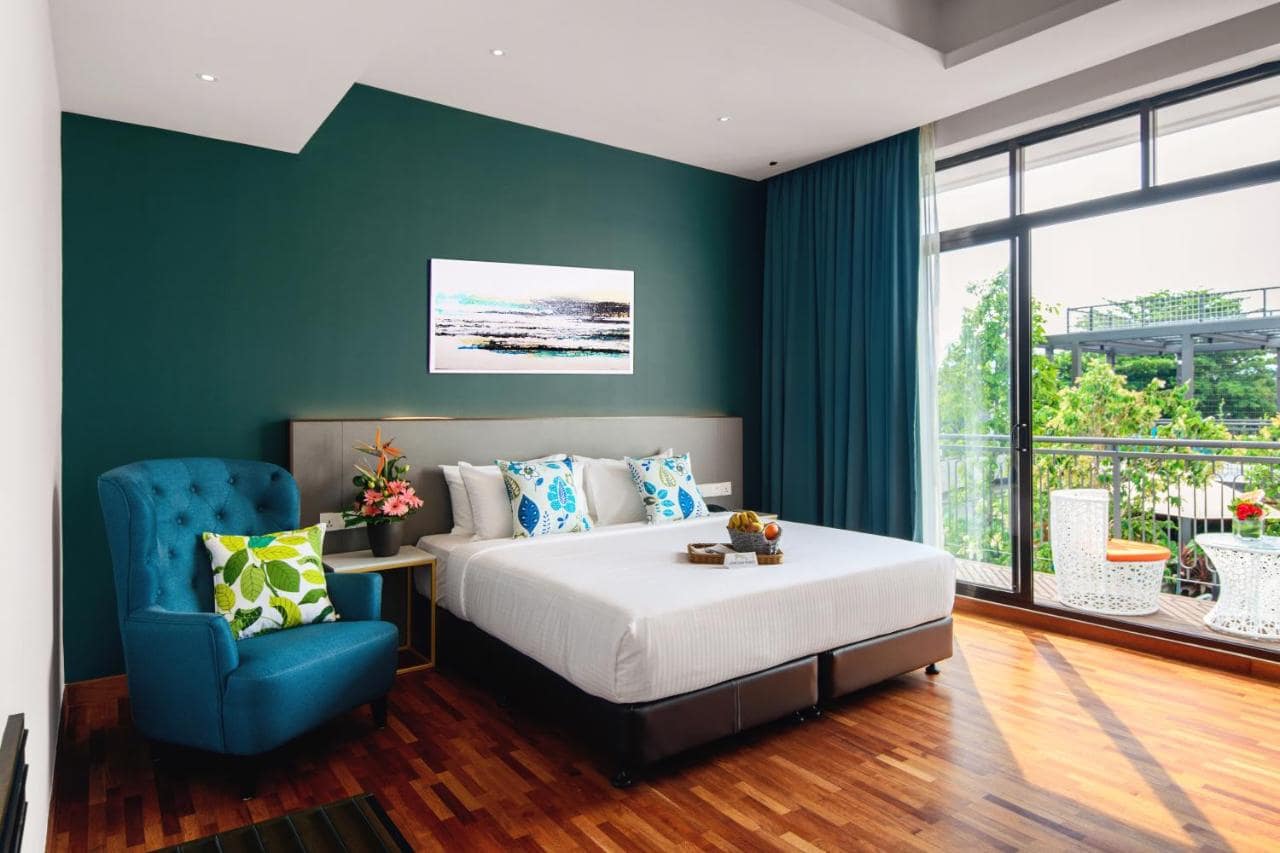 Image credit: Booking.com
The hotel's inviting swimming pool and the serene Trees@Savv pavilion set amidst lush green surroundings provide a tranquil escape.
Overlooking the Clan Jetties and the city waterfront, SAVV Hotel offers easy access to George Town's renowned local street food, historical sites, vibrant street arts, and an array of quaint cafes and bars, all within walking distance.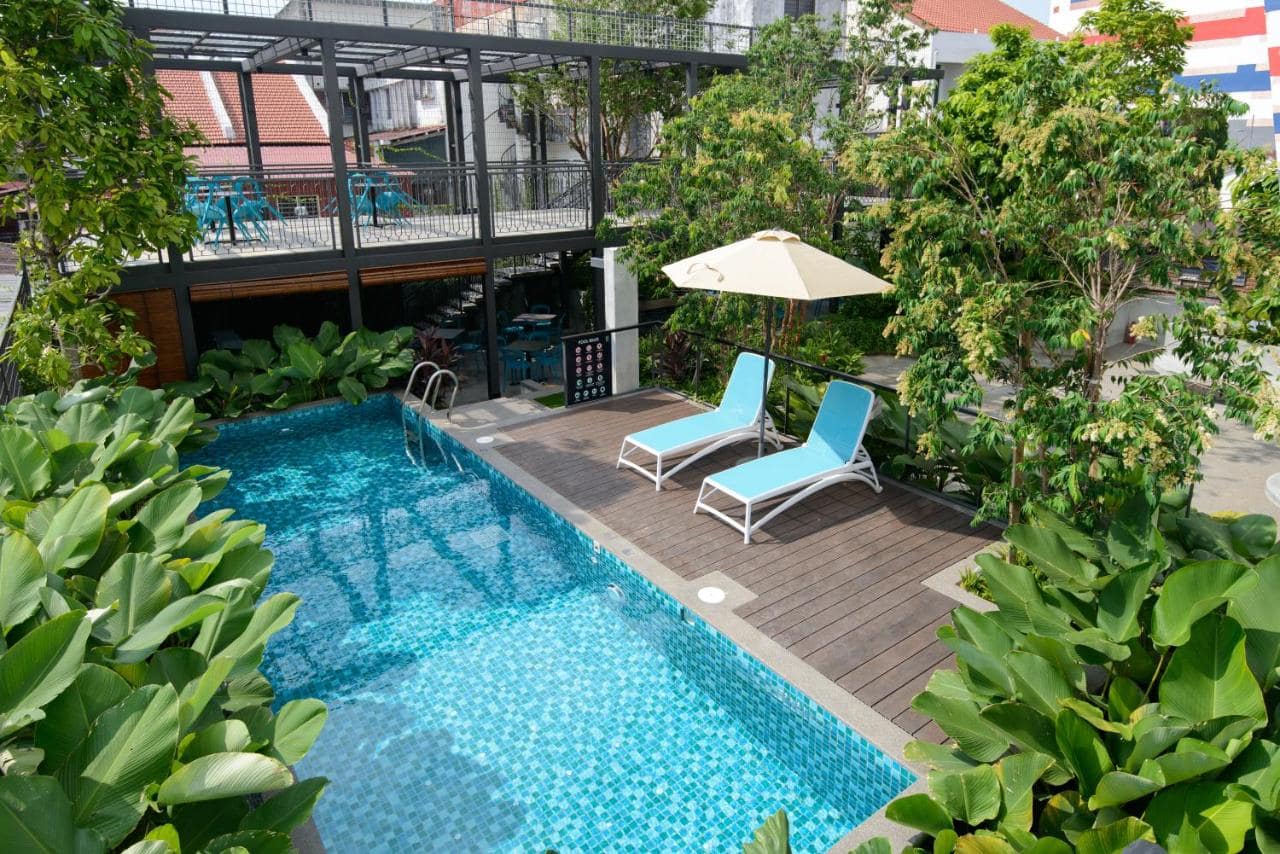 Image credit: Booking.com
What's Special?
Friendly customer service
The Trees@Savv pavilion, nestled within lush green surroundings, provides a peaceful escape where guests can enjoy breakfast and refreshing drinks
Easy access to George Town's UNESCO-listed historic sites, local street food, street arts, and an array of cafes and bars
Price: $. Find out more here.
Address: 39C, Pengkalan Weld, 10300 George Town, Pulau Pinang
Conclusion
As we wrap up our journey through the list, we hope you feel inspired to embark on your Penang adventure.
Whether you're drawn to the rich history of Penang's heritage boutique hotels or the modern comforts of its contemporary gems, one thing is certain: your stay in Georgetown will be nothing short of exceptional.
So, why wait? Georgetown Heritage Hotels invites you to experience the magic of Penang for yourself. Book your stay at one of our remarkable hotels, and let the UNESCO World Heritage Site of Georgetown, Penang, enchant you with its captivating culture, stunning architecture, and delectable cuisine.